Ackman Has New Stake Worth $800 Million in Unidentified Company
(Bloomberg) -- Bill Ackman said Wednesday his Pershing Square Capital Management has a new undisclosed position valued at about $800 million in a company he didn't identify.
"We have a new investment, which we'll not disclose in detail," Ackman said during a conference call Wednesday on Pershing Square's results. "It represents about 10 percent of our portfolio and, with that, we are largely, fully invested firm wide."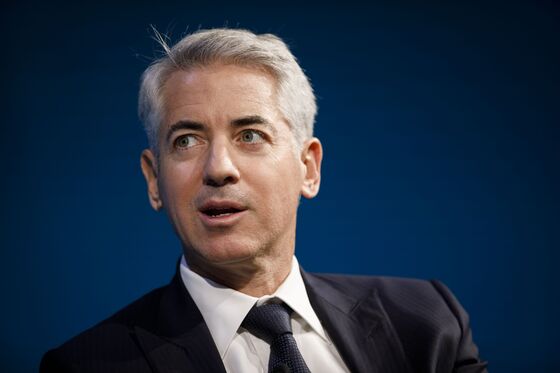 Pershing Square had about $7.96 billion in total assets under management at the end of July, according to its latest monthly report. That was down from about $9.3 billion at the end of 2017, the firm's filings show.
Ackman characterized Pershing Square's performance this year as "quite strong." The New York-based hedge fund reported a net return on its investments of 4 percent in July and 11 percent for the first seven months of the year.
The billionaire investor noted that the nomination deadline for the board of Automatic Data Processing Inc. passed last week without Pershing Square putting up a slate. Ackman, who ran an unsuccessful proxy battle at ADP last year, had threatened to do the same this year if management failed to deliver on its performance promises.
"What you can conclude from this is that we're pleased with the interactions we have had with the company," Ackman said on the call. "We think the business is making good progress, and we are looking forward to continued progress and success."
Pershing Square managers said during the call that another investment, United Technologies Corp., reported strong organic growth during the second quarter. The results were largely mixed, however, and almost all the profit growth stemmed from the aerospace businesses. That reinforces the case for a three-way split of the company because the aerospace unit's strong performance isn't being reflected in the company's share price, they said.
Pershing Square's investments in Fannie Mae and Freddie Mac remain hitched to the U.S. government addressing housing finance reform. Those efforts should pick up again after the midterm elections in November, Ackman said. He added that resolving this "last bit of unfinished business from the financial crisis" would be something President Donald Trump could point to as a success.
"At the end of the day, you have two of the greatest businesses ever created, in very strong, dominant positions, performing really well," Ackman said of the two mortgage finance companies. "They're in suspended animation until such time is there is a resolution here."