UniCredit's Biggest Risks Seen at Home, Not Emerging Markets
(Bloomberg) -- UniCredit SpA investors worried about Turkey and Russia shouldn't overlook the storm clouds gathering closer to home.
Risks are growing after the election of a populist government threatened tax-and-spend plans that could send Italy's budget deficit spiraling and set up a clash with euro zone partners. The local business accounts for half of the Milan-based bank's revenue and a quarter of risk-weighted assets, and faces higher funding costs from rising bond yields.
"The real threat to UniCredit -- as well as for the other Italian banks -- comes from Italy," said Robert Baron, a partner at Edinburgh-based advisory and investment firm DeltaHedge. "Investors are overreacting, because the risks linked to Turkey and Russia are absolutely manageable for the bank."
The bank has been expanding in emerging markets including Turkey and eastern Europe for more than a decade, in part to compensate for lower growth prospects at home.
Shares in UniCredit rebounded in Milan on Tuesday, trimming declines after a four-day losing streak on concerns over its Turkish operations. UniCredit shares are down about 12 percent this year. At 10.02 a.m., they were up 1.0 percent at 13.56 euros.
Italy's new government -- a coalition of the populist Lega party and Five Star Movement -- put itself on a collision course with the euro zone earlier this year, promising citizens a universal basic income and a flat income tax. Such policies could widen the budget deficit.
Investors tolerated Italy's weaknesses -- including high debt and low growth -- as long as it had the support of euro zone partners and the European Central Bank. They're now demanding a higher risk premium, raising funding costs for UniCredit and other banks. The 10-year Italian government bond now yields over 280 basis points more than its German equivalent.
"All eyes will be on Italy in the next three months," said ABN Amro strategist Tom Kinmonth. "That will be the real test" he said, pointing to the risk of sovereign credit downgrades as the new coalition pushes its first budget. Kinmonth also flagged the risk of more failures among weaker banks such as Genoa-based lender Banca Carige SA.
"As for Italy, lots depends on the government's behavior and on the ECB's willingness to cooperate," said Stefano Girola, a portfolio manager at Alicanto Capital SGR.
UniCredit held nearly 45 billion euros ($51.2 billion) of Italian sovereign debt at the end of June, according to Chief Executive Officer Jean-Pierre Mustier, and billions more in domestic loans priced off that debt.
Mustier -- widely respected for turning around the bank's fortunes since taking office in 2016 -- said this month even a 10 percent drop in the Turkish lira shaves only 2 basis points off UniCredit's core tier 1 capital ratio, a key measure of financial strength.
Andrea Filtri, co-head of European equity research at Mediobanca, calculated that even if UniCredit wrote down the value of its Turkish business to zero, it would still only cut 30-50 basis points off UniCredit's CET1 ratio. By contrast, the spike in Italian bond yields in the second quarter alone pushed it 30 basis points lower, the bank's filings show.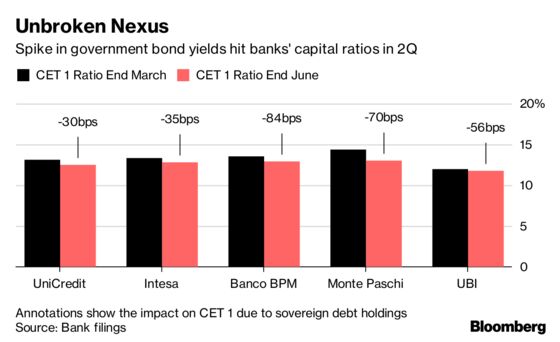 For now, investors still appear to have confidence in Mustier to build on the achievements of the last two years, in which profits have returned, costs have been cut, and the bank has shed much of its portfolio of bad loans.
UniCredit's direction is clear despite the short-term issues, thanks to its focus on risk and costs, Berenberg Bank analyst Eoin Mullany said in a note Tuesday. He also pointed to the relative strength of its balance sheet after a 13-billion euro capital increase at the beginning of 2017. As UniCredit trades at a 40 percent discount to book value, "it is one of the few euro zone banks to own," Mullany said.
"I don't think Mustier's honeymoon with investors is over and I am convinced that he will drive UniCredit to a merger in one to two years at most," Girola said.