U.S. Household Debt Jumps to $13.3 Trillion While Student Loan Delinquencies Dip
(Bloomberg) -- U.S. household debt continued to increase in the second quarter, propelled by an advance in mortgage borrowing, according to a Federal Reserve Bank of New York report that also noted a decline in seriously delinquent student loans.
Total household debt rose 3.5 percent from a year earlier in the April-to-June period to a record $13.3 trillion, while mortgage debt rose 3.5 percent to $9 trillion. The majority of newly originated mortgages continued to go to borrowers with the highest credit scores, extending the pattern of most of the current economic expansion -- 58 percent of new mortgage loans were taken by those with scores of 760 or higher.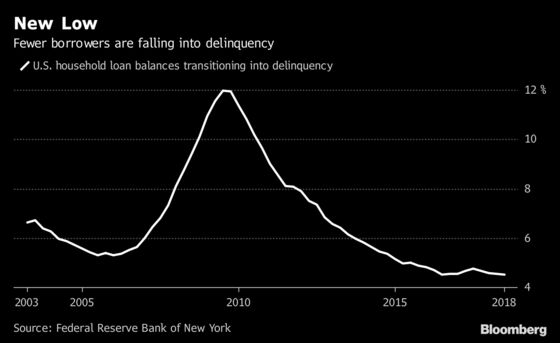 As borrowing advanced, borrower stress continued to decline. Loans slipping into delinquency fell to 4.52 percent in the second quarter, the lowest in data from 2003. The drop was primarily due to student loans, for which the transition rate has fallen 1.3 percentage points over the last year.
The improvement in delinquency rates for student loans reflects "an improved labor market and increased participation in various income-driven repayment plans," Wilbert van der Klaauw, a senior vice president at the New York Fed, said in a press release accompanying the report. Student loans judged to be seriously delinquent, or 90 days or more behind, declined in the second quarter to 8.6 percent from 8.9 percent in the three months before.