RWE Leads Dax Higher With Earnings Beat Before EON Swap Deal
(Bloomberg) -- RWE AG rose the most in a month after Germany's biggest power producer unveiled higher-than-expected earnings and a reduced debt burden before its landmark asset swap with rival EON SE.
Net borrowing fell by around 18 percent in the first half as RWE conserved cash to bolster its balance sheet. The move mirrors a similar debt reduction at EON as it prepares to integrate the Innogy SE subsidiary it acquired from RWE in Germany's biggest-ever utility deal.
Under the asset swap deal with EON, RWE will become focused on power generation whereas EON will operate a consumer-facing business. The new business models will be at the center of German Chancellor Angela Merkel's energy transformation away from fossil fuels. RWE will get EON's renewable energy plants as part of the 22 billion-euro ($25.6 billion) swap.
"Aside from the recent M&A news, RWE is our preferred name amongst German utilities," said John Musk, an analyst at RBC Europe Ltd. The Innogy transaction "should provide RWE with a long-term growth story and alleviate fears that RWE's current generation portfolio is too heavily weighted to fossil fuels."
The deal with EON is "proceeding well," RWE Chief Executive Officer Rolf Schmitz said in a statement on Tuesday. The transaction is expected to be completed in the middle of 2019.
RWE led Germany's blue-chip DAX index higher, gaining 3 percent to 21.60 euros at 5:12 p.m. in Frankfurt in the biggest one-day move since July 4.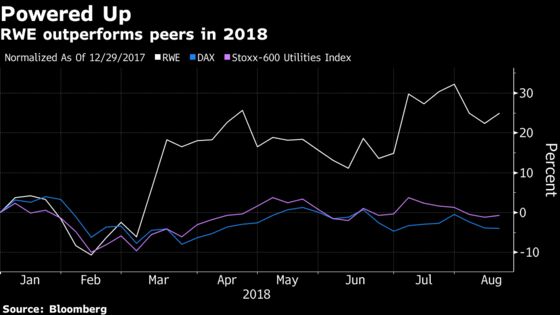 The motivation for the deal was evident in RWE's earnings. First-half adjusted net profit dropped 23 percent, due in large part to declines in realized wholesale electricity prices. The full-year forecast implies a range for the second half spanning a loss of 182 million euros to a profit of 117 million euros. The lower earnings expectations for the second half are mainly because dividend payments from Innogy fall in the second quarter, a spokeswoman said.
RWE in Germany's Utility Transformation:
2016: RWE listed its renewables unit Innogy. EON took a similar step and listed conventional subsidiary Uniper.
March 2018: EON agreed to buy Innogy from RWE. Under the asset swap, EON will take the grid and retail business, leaving RWE with the conventional and renewable generation assets.
June 2018: RWE CFO Markus Krebber said German power prices will continue to rise as Germany closes coal and nuclear plants
Full-year dividend to increase to 70 cents a share from 50 cents
Full-year adjusted net income forecast between 500 million euros and 800 million euros
First-half adjusted net income fell 23 percent to 683 million euros, beating analysts' 620 million-euro median estimate
Net debt declined in the first half by about 800 million euros to 3.7 billion euros