Billionaire Usmanov Mulls Everton Stake After Arsenal Sale
(Bloomberg) -- Russian billionaire Alisher Usmanov is open to staying involved in soccer and would consider investing in England's Everton Football Club or teams in Germany and Italy after selling out of London's Arsenal Holdings Plc last week.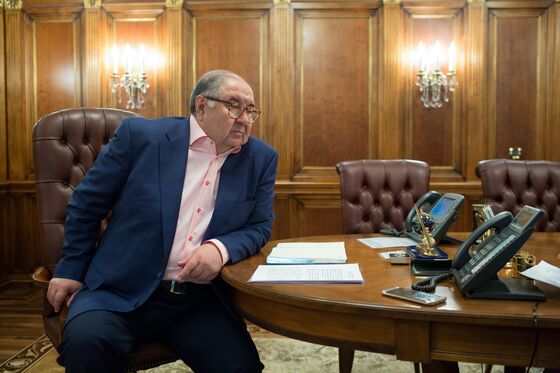 Usmanov receives "many proposals" from clubs and is considering his options, Russia's eighth-richest person said in a phone interview. Any deal would have to allow the 64-year-old an element of personal influence over operations and management, he said -- something he didn't enjoy as Arsenal's second-biggest shareholder behind U.S. billionaire Stan Kroenke.
The mining and telecommunications tycoon ended an 11-year association with Arsenal by agreeing to sell his 30 percent stake to Kroenke in a deal that values the Premier League club at about 1.8 billion pounds ($2.3 billion). The two men had clashed over strategy, with the Russian criticizing his co-investor as Arsenal struggled to a disappointing sixth-place finish last season. The club failed to qualify for Europe's elite Champions League competition for the second year in a row and long-term manager Arsene Wenger stepped down.
Before agreeing to sell out, Usmanov said he made an offer to Kroenke to take over the club himself in a deal that valued Arsenal at 2 billion pounds. When that offer was rebuffed, he accepted a proposal to cash in, he said.
Usmanov's intention to stay in football will be of interest to supporters of Liverpool-based Everton, which is majority owned by Farhad Moshiri, his long-term business partner. Usmanov's USM Holdings already sponsors the training ground of the mid-ranking Premier League team, which is striving to break into the league's top six and is considering a move into a new stadium. Usmanov "doesn't exclude" a more significant investment, he said.
"We are friends with Farhad Moshiri," he said. "If he needs the support, I am happy to help."
Everton Deputy Chairman Keith Harris responded that any deal between Usmanov and Moshiri would be a private matter. However, the Russian "understands his football very well and support can come in many ways, not just financial," he said by phone. "It could also mean through advice or moral support."
Harris is responsible for the club's 450 million-pound stadium relocation project, which is expected to go into the planning stage in the next few months.
Still, Usmanov's interest is not restricted to England. He's a fan of several clubs on the continent, he said, including serial German champion Bayern Munich and Italian clubs A.C. Milan and A.S. Roma, who finished sixth and third respectively in the country's Serie A league last season.
"Should there be a proposal or a possibility to invest in them with good potential returns, I would consider the deal," he said.
A.C. Milan was last month taken over by Elliott Management Corp., the investment firm run by billionaire Paul Singer, after the club's Chinese owner defaulted on its debt obligations. The firm won't consider a sale while it stabilizes the club's finances, people familiar with the matter said at the time. Roma is owned by American billionaire James Pallotta, while Bayern's shareholders include Adidas AG and Allianz SE.
Usmanov, whose assets include an iron-ore producer and Russian phone carrier MegaFon PJSC, has a net worth of $14.5 billion, according to the Bloomberg Billionaires Index. He bought the Arsenal stake in 2007 from businessman David Dein. Although he was frustrated over his lack of influence, the value of the club more than quadrupled while he was an investor.
"When I bought the stake in Arsenal I believed that football brands would be able to generate profit," he said. "This is happening now."
Kroenke, 71, plans to make a compulsory buyout offer for all remaining Arsenal shares once he has 90 percent of the stock. The bid values Usmanov's stake at more than 550 million pounds and the remaining shares at about 52.4 million pounds.