Norway to Tamp Down on Oil Spending After Wealth Fund Deposits
(Bloomberg) -- Norwegian Prime Minister Erna Solberg is ready to start reining in oil spending after the government began putting money back into the sovereign wealth fund again.
The Norwegian government in June made its first deposit into its wealth fund since the end of 2015. Now that the economy is in full recovery and the labor market is tightening, winding down fiscal stimulus is a key priority in next year's budget, the prime minister said in an interview in Arendal, on Norway's southern coast.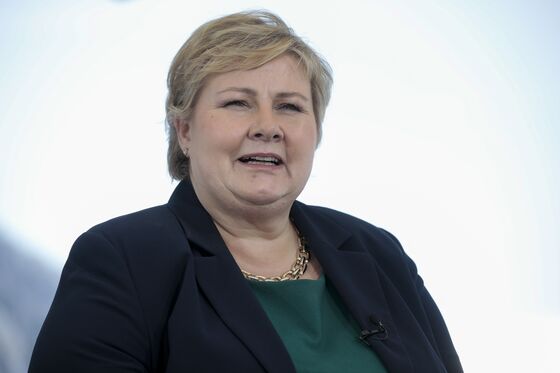 "It's the tangible things in the economy that matter," Solberg said. "We ensured that people were employed, and we made sure that the challenges were minimized for people in Norway -- now it is important that we're able to show that we have also managed to scale down the use of oil money."
Norway's center-right government in May said it planned to plow 225 billion kroner ($27 billion) of its oil wealth into the economy this year, with 21 billion kroner forecast to be withdrawn from the wealth fund. As the economy strengthens and government revenue from the oil and gas industry improves with rising crude prices, the government will now need to ensure that the recovery isn't hampered by a shortage of workers in some industries.
"We're beginning to see shortages in some parts of the labor market, which obviously have an impact on how much we can stimulate the Norwegian economy," Solberg said. "It's important in the good times as well that we use money on the long-term measures to get people into jobs."
The government will present next year's budget on October 8.