How EU's Biggest Polluter Escaped a Tripling of Carbon Price
(Bloomberg) -- While carbon traders watch the cost of pollution rocket, Europe's biggest emitter of the greenhouse gas won't feel the pinch for years to come since it secured permits in advance at a third of the market rate.
Carbon prices have more than doubled since the start of this year and this week broke through 18 euros ($20.50) a ton, the highest in seven years. The German utility RWE AG has insulated itself by buying the carbon it needs at 5 euros to 6 euros a ton until 2021.
The revelation came along with RWE's earnings report and shows how companies can use financial markets to delay more costly changes in reducing pollution from their facilities. The European Union set up its carbon market in 2005 to give industry a price signal indicating how quickly they need to rein in emissions. While the market has driven up the cost of pollution this year, some companies have benefited from hedging strategies.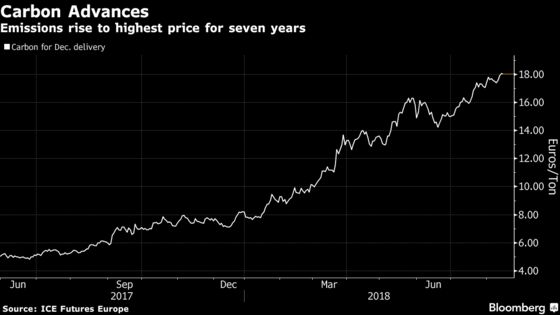 RWE is the biggest producer of carbon in Europe, with plants fueled by coal and and its dirtier cousin, lignite, making up about two thirds of its installed capacity in Germany. Buying emissions allowances is an important cost factor for fossil fuel-fired power stations. The tripling of the price since the middle of last year should make running coal and lignite stations more expensive.
For RWE, that's not the case, at least not yet. The company said its carbon dioxide exposure is hedged until 2022. It didn't include that year in the cost figures. For hard coal, it fixed prices at as much as 6 euros and at 7 euros for lignite.
Efforts by the EU to remove surplus permits from the market has "given many emitters of carbon dioxide a reason to expect an increase in certificate prices, causing them to purchase emission allowances early on," RWE said in its first-half earnings statement Tuesday. "Consequently, EUAs have risen in price significantly even though the package of reforms has yet to be implemented."
More gains might be on the way, said Markus Krebber, chief financial officer, speaking with investors and analysts.
That's because fuel switching to gas from coal can cut EU emissions by less than 100 million tons of carbon dioxide, which won't solve a shortage of allowances of "maybe a couple of hundred million tons," he said. "To have a significant amount of CO2 abatement from fuel switching, we probably need higher prices."
Krebber said RWE had started hedging beyond 2022, "but please understand that we will not provide any details on our position due to the sensitive nature of this information."
RWE began a forward-looking hedging strategy "a few years ago to mitigate risks from falling coal prices," the utility said in an emailed response to questions. "We usually use derivatives to buy CO2 certificates," it said, without specifying whether that includes options.
The EU's carbon market is the biggest in the world, requiring utilities to buy permits covering their fossil-fuel emissions. The cost of those permits plunged about 80 percent over a decade to below 5 euros a ton a times from 2012 to 2017. That's half the level needed for companies to get much of an incentive to change.
The region caps emissions from the power industry, some factories and airline flights. It took almost a decade to repair the market from a surplus of permits that built up in the last recession.
The bloc finally agreed to remove a portion of allowances starting in 2019, which will erode the accumulated glut. So that's why the price surged.