Congo Opposition Will Back Single Presidential Candidate in Vote
(Bloomberg) -- Opposition politicians in the Democratic Republic of Congo said they'll back a single presidential candidate in this year's election to maximize their chances of defeating the long-serving head of state's chosen successor.
Such an outcome would increase the prospect of opponents of President Joseph Kabila defeating his anointed replacement. The Dec. 23 vote is a one-round contest and multiple candidates would split the opposition vote.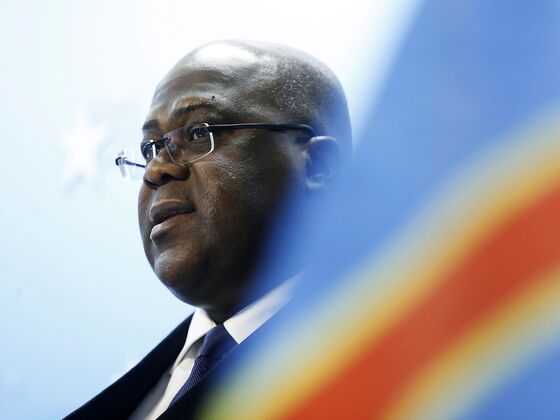 "The leaders of the opposition are continuing consultations in order to designate a joint candidate around a common program," according to a statement signed by six opposition leaders and emailed from the capital, Kinshasa, on Monday. Five of the politicians have registered independently to compete for the presidency.
Among the signatories are Felix Tshisekedi, the head of Congo's largest opposition party, Jean-Pierre Bemba, who came second in the 2006 poll, and Vital Kamerhe, who finished third in the last ballot in 2011. Moise Katumbi, a former ally of Kabila and onetime governor of the copper-rich Katanga province, was blocked from returning to Congo to register as a candidate.
Kabila, who has ruled the world's biggest cobalt producer since 2001, nominated former Interior Minister Emmanuel Ramazani Shadary as the candidate for his ruling Common Front for Congo coalition, or FCC, on Aug. 8. Shadary is the leader of Kabila's People's Party for Reconstruction and Democracy, the dominant member of the FCC.
Kabila was supposed to step down after elections in 2016, but the electoral commission failed to organize the polls, which were postponed indefinitely. The president's initial decision to retain the presidency beyond the end of his constitutionally limited second term sparked sporadic protests in which security forces killed dozens of people.