Coke's Kobe Drink Deal Is a Blow to Keurig Dr. Pepper
(Bloomberg) -- Coca-Cola Co.'s agreement to buy a stake in Kobe Bryant-endorsed sports-drink maker Bodyarmor is a blow to Keurig Dr. Pepper Inc. It's not very good news for PepsiCo Inc.'s Gatorade, either, analysts said.
Both rivals are trading lower today after Coke signed the deal, which includes a path to full ownership. The move could help boost the Atlanta-based drink-maker's presence in the sports beverage market. Powerade currently lags Gatorade.
Bodyarmor is "one of the most exciting and fastest growing brands in the sports drink category," Wells Fargo analyst Bonnie Herzog said in a note to clients.
The move was a "body blow" for Keurig Dr. Pepper, which -- get this -- owns a smaller stake in Bodyarmor, RBC analyst Nik Modi wrote. The writing was already on the wall for that partnership: When Keurig acquired Dr. Pepper Snapple in July, Bodyarmor ended its distribution agreement with Keurig Dr. Pepper. And now, Bodyarmor's moving to Coke's bottling system, Herzog said.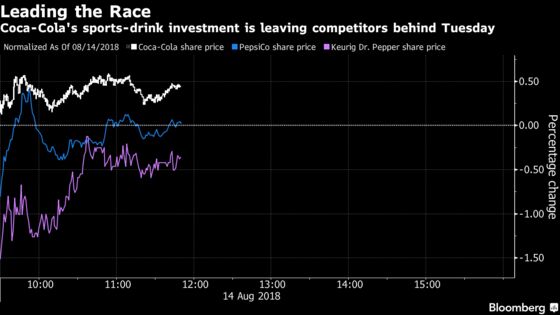 It's a lost opportunity for Keurig Dr. Pepper to expand its influence in the sports drink market, resulting in the loss of "its biggest and most important allied brand," Barclays analyst Lauren Rae Lieberman cautioned in a note. The deal is likely to "have a material impact" on Keurig Dr. Pepper's future growth.
It's not all bearish for Keurig Dr. Pepper. Susquehanna analyst Pablo Zuanic later Tuesday wrote that Bodyarmor accounted for just 0.6 percent of the company's earnings in 2017, and by keeping its 12.5 percent stake, Keurig Dr. Pepper could actually benefit from the deal if Coke's influence accelerates growth for the sports drink.