Wells Fargo Can't Shake Its Bad Image. It May Even Be Getting Worse
(Bloomberg) -- By some measures, Wells Fargo & Co.'s reputation may be even worse now than it was at the height of the 2016 fake-account scandal.
The bank faces ever-climbing negative consumer sentiment, with readings in early August at 91 percent negative, said Mark Bachman, head of M Science's "TickerTags," a web-based analytics platform. The firm used proprietary algorithms to measure the percentage of positive versus negative mentions on Twitter, excluding re-tweets and links, he said in an email to Bloomberg.
"Conversations on Twitter may include direct references to news sources, but we purposely excluded mentions where people are only re-tweeting or commenting on news article links," Bachman says. "We have found that organic conversations are more indicative of public awareness and sentiment compared to re-tweets and link sharing."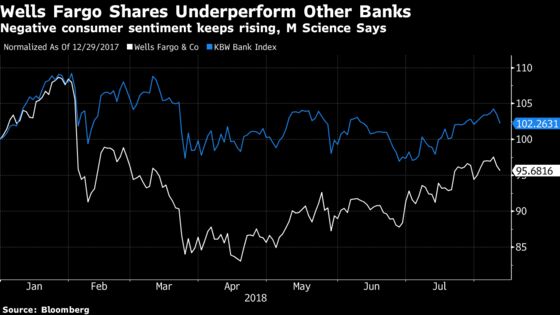 M Science's analysis comes after Wells Fargo in an Aug. 3 filing disclosed another round of lapses and potential scandals, saying it faces a U.S. inquiry into its purchase of low-income housing credits and conceding it may have unnecessarily foreclosed on about 400 homeowners.
The 91 percent negative reading is the highest in data going back to January 2012. Negative sentiment following Wells Fargo's 2016 fraudulent account scandal peaked at 74 percent.
"Rebuilding trust with our team members, customers, communities, shareholders, and regulators remains our top priority," Wells Fargo spokesman Peter Gilchrist said in an email to Bloomberg. "As part of our work to transform Wells Fargo, we are committed to closely examining every part of our company, fixing the issues we find, and making things right for all of our stakeholders."