Your Next Turkey Trip Just Got Much Cheaper. Here's the Bad News
(Bloomberg) -- Last-minute bargain hunters can swoop on Turkey for a good deal following a plunge in the currency -- from vacations at lavish Bodrum resorts to high-end Hermes and Chanel handbags that have suddenly become as much as 25 percent cheaper than in Paris, Dubai or Beijing.
But on the flip side, corporate profits from selling goods locally are dwindling by the day when converted to home currencies: manufacturing of heavy trucks or industrial machinery, and financial services all stand to suffer.
The effects of the imploding Turkish currency are now rippling through the boardrooms of multinational companies, some of whom may end up paying a heavy price for having painstakingly built up extensive operations in the country over the past decades. There are a few bright spots, notably companies that produce goods in the country for export.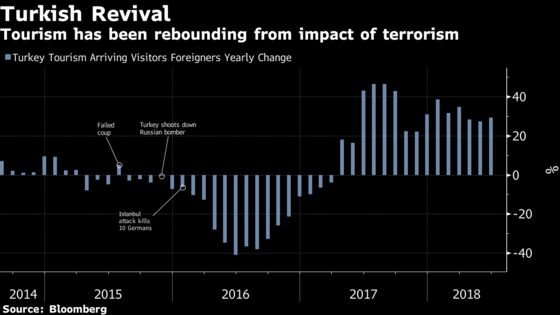 Spanish bank Banco Bilbao Vizcaya Argentaria SA, German fashion house Hugo Boss AG and French family-controlled cement maker Vicat SA are among European companies with deep roots in Turkey, while Asian giants including Toyota Motor Corp. and Japan Tobacco Inc. also have a heavy presence in the country. Some have numerous factories there and employ thousands of workers. Here's a sampling of major companies with exposure: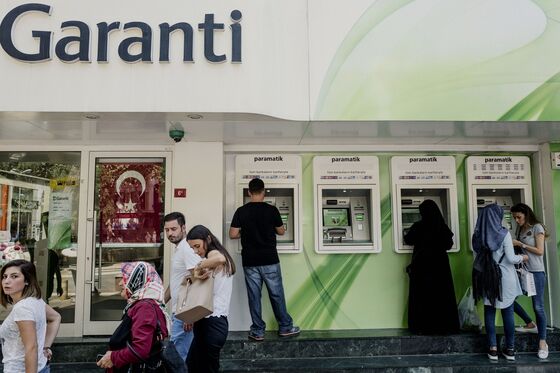 European Union banks' exposure to Turkey totals more than $100 billion and is a growing concern, according to Bloomberg Intelligence. BBVA, UniCredit SpA of Italy and France's BNP Paribas SA are the most exposed with BBVA owning 49.9 percent of Garanti and getting about 14 percent of net profit in the first half from its Turkish subsidiary. UniCredit has almost 41 percent of Yapi Kredi, while BNP's local subsidiary is called TEB. Alphavalue has estimated that BNP could exit Turkey entirely.
"Efficient discounting" of banks with exposure to Turkey has happened, Lucy MacDonald, CIO of global equities at Allianz Global Investors, told Bloomberg TV in an interview.
Toyota makes about 280,000 cars a year at its Turkish plant, which has been in operation since 1994. However, some nine out of 10 of those cars are exported to European markets, and it conducts most of its business with suppliers in euros, providing a natural hedge from the country's currency crisis, according to a spokesman for the Japanese automaker. Toyota recently poured 350 million euros ($400 million) into the plant so it can produce the latest generation of vehicles, bringing total investment to 1.7 billion euros.
Volkswagen AG delivered about 158,000 vehicles in Turkey last year, though that's a drop in the bucket for a company that produced almost 11 million vehicles overall. VW's MAN heavy truck brand has a facility near Ankara, which was the commercial vehicle maker's first production site outside Germany when it began operations in 1966. It's currently MAN's largest bus plant, according to the company's website. The factory produces city buses and coaches for the MAN and Neoplan brands.
Daimler AG's Mercedes-Benz has been producing trucks in Turkey for more than 30 years; they're sold primarily in the domestic market. It's investing 113 million euros ($129 million) through this year to double capacity at the Aksaray plant, where the company employs about 1,800 workers. Daimler also produces buses on the outskirts of Istanbul, most of which are exported. That plant employs some 3,300 people.
French cement maker Vicat has been active in Turkey for a quarter century with two production sites from which it gets a fifth of its cement sales volume. Chief Financial Officer Jean-Pierre Souchet said last week the company is "clearly a little bit tense" about the country's financial situation even as growth was "tremendous" in the first quarter of the year.
Mitsubishi Heavy Industries Ltd., one of Japan's largest nuclear power plant makers, may see further delays in orders related to the planned Sinop power station in northern Turkey, said Tomohiko Sano, an analyst at JPMorgan Securities Japan Co. Mitsubishi Heavy and Areva of France signed a $22 billion agreement in 2013 to build the plant. Shimon Ikeya, a spokesman for Mitsubishi Heavy, said Monday he can't comment on the effect of Turkey's economic situation on individual projects. A spokeswoman for Electricite de France SA, which acquired Areva, also declined to comment.
Aeroports de Paris SA, the French airport operator, has invested heavily in Turkey in recent years through its 46 percent-owned TAV Havalimanlari Holding AS, which operates more than a dozen airports across the country as well as hubs from Georgia to Saudi Arabia to Tunisia. The company in February unveiled a plan to buy a minority stake in the country's third largest hub, Antalya, for 360 million euros, with the rest owned by German rival Fraport AG. A drop in travelers to Antalya in 2016 resulted in the airport swinging to a net loss.
The German fashion company will have lower costs when expenses are translated into euros. Its largest plant is located in Turkey, with 3,777 employees, where it gets about 15 percent of its goods. The main focus at the factory in Izmir is manufacturing high-quality apparel such as suits, jackets and shirts as well as tailored women's wear.
Similarly, Inditex SA, the Spanish owner of the Zara brand, makes about 15 percent of its goods in Turkey, according to estimates published July 30 by Societe Generale analyst Anne Critchlow. Inditex doesn't break down how much it sources from each country.
Japan Tobacco, which sells its Winston and Camel cigarettes among others in Turkey, holds about 28 percent of the tobacco market in the country, second behind Philip Morris International. Japan Tobacco said it is keeping an eye on the potential currency implications of the crisis. Earlier this month, the company said it revised its foreign-exchange assumptions to account for a weaker lira.
Deutsche Lufthansa AG has a 50-50 joint venture with Turkish Airlines called SunExpress, a leisure carrier with about 72 aircraft and more than 3,800 staff. SunExpress carried 8.8 million passengers last year and sales rose to a record amid a revival in tourism in the country compared with a decline in 2016. The company benefits from the falling lira, which makes the country more attractive for vacationers, a SunExpress spokesman said. On the other hand, traffic within Turkey is a bit weaker, which the company will react to by reducing capacity, the spokesman said.
Tourism in Turkey had been rebounding after terrorism and a failed coup in recent years made the country less appealing. TUI AG said last week bookings to Turkey were strong, while Thomas Cook Group Plc said in July that summer volumes were significantly ahead of last year, fueled by the return in popularity of Turkey.
The hotel industry had been been doing well even the market turmoil, according to analytics firm STR. In dollar terms, Revpar, an industry measure of profitability, rose almost 31 percent in July from a year earlier, according to preliminary data compiled by the researcher.
Vodafone Group Plc invested in Turkey as part of a bet by the world's second-largest mobile carrier on winning more corporate and consumer business from emerging markets. Turkey, which accounted for about 6 percent of Vodafone's revenue last fiscal year, was worth 3 billion pounds ($3.8 billion) or 11 pence per share of the carrier's value before the lira's decline, according to James Ratzer of New Street Research.
Telia Co., Sweden's former phone monopoly, is the largest shareholder in the country's top telecom carrier, Turkcell, via a partnership with Russian tycoon Mikhail Fridman and Turkcell founder Mehmet Emin Karamehmet. The partners have been feuding for more than a decade over control of the business. The lira's slide could dent the value of future dividends from Turkcell for Telia, whose shares have dropped for the past four days.