Top Goldman Traders Caught Up in Tango With Flamboyant Financier
(Bloomberg) -- The 223-foot yacht sat off the sunburnt Sardinia coast as top executives of Goldman Sachs climbed aboard.
It was August 2015, and Michael Daffey and John Storey arrived with their wives to cultivate a seemingly unlikely client: Lars Windhorst, a controversial German financier whose checkered history had, at least for a time, left many in financial services wary of doing business with him.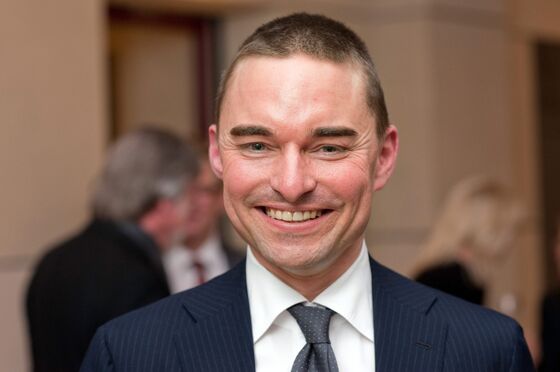 That summer, his reputation was on the mend and Goldman Sachs was ready to explore a relationship -- one that's left some of its most senior traders tangled in a legal fight with one of their own. The question at the center of the dispute is who's responsible for allowing an ultimately troubled 2016 trade, allegedly prompted by Windhorst, that unexpectedly exposed the bank to millions of dollars in potential losses. Windhorst, an investor who started his career as a teen prodigy and had already faced collapses in the dot-com crash and the financial crisis, denies he was even involved.
In the months after the rendezvous on his yacht, Windhorst began engaging more frequently with the bank, eventually pursuing bond and equity deals involving his affiliates, even as the firm's compliance department resisted a closer relationship, according to people with knowledge of the matter. Within a year, it culminated with the flawed trade over a digital advertising company, sparking an internal investigation that led to the termination of Chris Rollins, a 16-year veteran of the bank, who became chief executive officer of brokerage BTIG in Europe this year.
Last week, Rollins sued Goldman Sachs Group Inc. in Manhattan federal court, arguing he was made a scapegoat for a relationship with Windhorst that more senior managers had built. His complaint describes actions by some of the firm's top executives in Europe, including Jim Esposito, who is now co-head of its trading business, and Richard Gnodde, head of international business.
The suit offers a rare look inside Goldman Sachs, detailing purported interactions with one of Europe's most colorful financiers. The bank says the case is without merit.
In a statement Sunday, Goldman said Rollins knew it had misgivings about dealing with the financier -- which it didn't name -- and that certain approvals would be needed before executing the trade at issue. Michael DuVally, a company spokesman, declined to comment further on behalf of Daffey, Storey, Esposito and Gnodde.
While the complaint also doesn't identify Windhorst by name -- referencing him at one point as "a notorious European businessman" -- or many of the other companies involved, people with knowledge of the matter filled in some of those pieces and described the web of connections between the bank and entities linked to him, on the condition they not be identified discussing confidential dealings.
"We strongly deny that the unnamed executive mentioned in the lawsuit is Lars Windhorst," his spokesman, Alistair Kellie, said last week. "The allegations in the suit do not support that supposition."
Windhorst, 41, rose to fame as a teenager in the mid-1990s, when German Chancellor Helmut Kohl took him along on an official trip to Asia. By his 30th birthday, he had made and lost a fortune, at one point filing for personal bankruptcy. By 32, one of his investment firms faced another insolvency. Yet in 2015, he was throwing lavish Christmas parties at London's Natural History Museum and gatherings on his megayacht in the Mediterranean.
He seemed ready to put his financial and legal challenges behind him and restart his dream of following in the footsteps of Blackstone and KKR.
The tide had begun to turn. He had been courting Goldman Sachs and other Wall Street banks for years to establish a stronger trading and investing relationship. Finally, his efforts were gaining traction.
In the ensuing months, Goldman Sachs was part of an unusual trio raising $1.2 billion for Etihad Airways and affiliates. The deal placed the giant investment bank alongside ADS Securities and another brokerage, Anoa Capital, both of which had ties to Windhorst. His investment vehicle had purchased a stake in Anoa, people with knowledge of the matter said, asking not to be identified discussing non-public information.
By the end of 2015, Goldman Sachs had opened up a trading account for Windhorst's investment fund Sapinda in New York with the help of Daffey, the lawsuit alleges. But Goldman Sachs compliance held off approval for another account in London because of Windhorst's past business dealings.
Storey, Goldman's head of equity sales in Europe, had been looking for ways to get Windhorst added as a client, one of the people with knowledge of the matter said. A mid-2016 transaction offered a lucrative opportunity.
Windhorst's fund purchased a 20 percent stake in Austrian real-estate firm Buwog AG and looked to flip it within a few weeks through Goldman Sachs. The transaction was handled by Rollins, and Goldman Sachs was able to profit.
"Sapinda, Mr. Windhorst's company, was only ever involved in one very successful July 2016 transaction with Goldman Sachs, which was widely publicized and did go through and receive all necessary approvals including those by compliance and legal," a spokesman for Windhorst said.
Goldman's commitment committee -- part of the firm's compliance system that examines potential dealings -- initially wouldn't approve the trade. But that changed shortly after a meeting between senior executives including Daffey, Gnodde and Michael Sherwood, co-head of the international business, according to the lawsuit. The bank later told regulators a one-time approval was granted to increase the float in Buwog's stock, a person with knowledge of the matter said.
By August 2016, Windhorst approached Rollins about a trade in digital advertising company RNTS Media, in which he was an investor, according to the people. He offered ADS Securities, the broker based in the U.A.E. that had worked on the Etihad deals, as a potential buyer of the stake if Goldman Sachs was willing to be the broker, the people said.
In the middle of the trades that month, ADS Securities reneged on a payment for RNTS shares, leaving Goldman Sachs on the hook for $85 million, according to the suit and people with knowledge of matter. The brokerage said it can't comment on what happened.
"ADSS is a broker and acts only as a financial intermediary consistent with how it is regulated by the central bank of the United Arab Emirates," the company said in an emailed statement. The need to preserve client confidentiality means the firm is unable to discuss specific securities or the investors who bought them, it said.
The bank began examining what happened. Soon after, Windhorst was snared in separate legal disputes, which have since been settled. His firms were ultimately restructured.
In his complaint, Rollins said the Buwog trade demonstrated the bank's willingness to deal with Windhorst, and that he wasn't aware of any restriction that would have prevented the RNTS transaction. He said he's repeatedly asked for evidence that it was in place. After a disciplinary hearing chaired by Esposito, Rollins said he was fired in February 2017 for having breached the alleged restrictions. The suit also names Esposito as a defendant.
Rollins asserts Goldman Sachs unfairly faulted him to avoid a deeper look into the actions of more senior managers and the compliance department so that it wouldn't risk a broader scandal.
Goldman pushed back in its statement Sunday. Rollins knew the bank "had concerns about doing business with the financier -- when we decided to not approve an execution account," the company said. "Also, for the one transaction involving the 'financier' which was eventually cleared, additional due diligence and senior management and committee approvals were required before the transaction could proceed -- all of which Mr. Rollins was well aware of."
Daffey is still the co-chief operating officer of the firm's equity business. Sherwood, once a vice chairman of Goldman Sachs, has left the firm. He didn't respond to requests for comment.