Stress Mounts in Turkish Bank Bonds Battered by the Lira's Slide
(Bloomberg) -- Bonds of Turkish banks plunged deeper into stressed territory as the lira's 45 percent slump this year makes it more costly for lenders to repay dollar debts.
Nine bonds issued by Turkish banks listed in a Bloomberg Barclays index were trading below 80 cents on the dollar as of Monday, compared with just one a month ago. Bonds of Yapi Kredi Bankasi AS maturing in March 2026 were among the hardest hit, losing almost 30 cents on the dollar in the past week.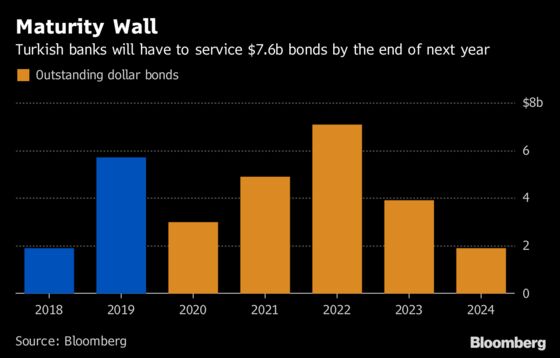 Concern is mounting that Turkish lenders may struggle to find the capital to repay about $34.4 billion of bonds sold during a decade of rapid economic growth and historically low global borrowing costs. About a quarter of that total is due for repayment before the end of 2019, according to data compiled by Bloomberg.
"The view in the market has been that the Turkish banking sector is well capitalized and able to deal with short-term liabilities, but the more the lira falls, the more that comes into question," said Diana Amoa, a London-based money manager at JPMorgan Asset Management. "Right now it seems the markets are trying to trade the potential for more financial stress but I don't think we're talking about banking-sector defaults yet."
The cost of insuring Turkish debt over five years through credit-default swaps surged to the equivalent of 574 basis points on Monday, the highest since 2008. The Borsa Istanbul Banks Index of stocks slumped 9.8 percent to levels last seen in 2012.
"The material level of foreign currency borrowings among Turkish institutions makes them vulnerable," said Alaa Bushehri, an emerging market portfolio manager at BNP Paribas Asset Management, which oversees about $650 billion.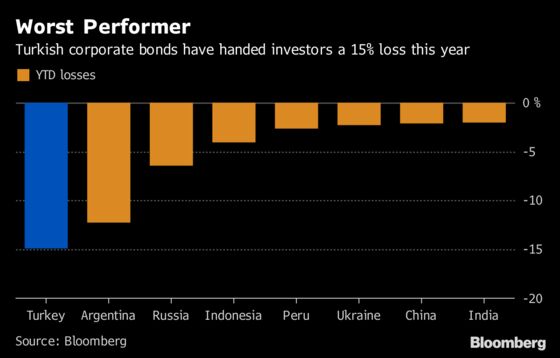 The average capital adequacy ratio of the banking system was 16 percent as of end-June, according to data of the banking regulator. The capital adequacy ratio is well above the minimum legal threshold of 8 percent and the regulator's requirement of 12 percent.
Every 10 percent decline in the lira reduces bank capital adequacy ratio by around 50 basis points on average, according to a Goldman Sachs report published on Aug. 6. Turkiye Garanti Bankasi AS and Akbank Turk AS are well-positioned relative to the rest of the industry, while lenders such as Yapi Kredi are the most vulnerable, they wrote.
"The next time a bank approaches the wholesale markets for funding via a structured repo or syndicated loan, it will be interesting to see if those lines are still in place in a similar size and what pricing is offered to the Turkish banks," said Mohammed Elmi, an emerging-market portfolio manager at Federated Investors U.K. in London.