McDonald's Buns Maker Is in a Kitchen Nightmare
(Bloomberg Opinion) -- Investing in Aryzta AG, the Swiss baking giant, has been a recipe for disaster over the past few years. The maker of goods ranging from McDonald's burger buns to Otis Spunkmeyer cookies has issued three profit warnings in 18 months, and now wants to sell 800 million euros ($911 million) of shares to strengthen its balance sheet. Think of it as the opposite of self-raising finance.
After a period of over-expansion, lost contracts and rising raw material and labor costs, a new management team has been struggling to turn round the business. These efforts have been hampered by escalating debt. The shares have been falling for four years now, pushing the market value down from 6 billion euros in 2014 to 694 million euros today, and fears about the capital increase have accelerated the drop over the past week.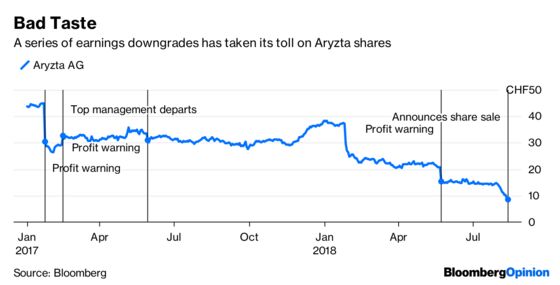 Net debt to Ebitda is a lofty 7.6 times, when you include 800 million euros in hybrid securities, according to Berenberg analyst Fintan Ryan. So you can see why the new money is needed — despite the company's repeated claim to the contrary (until today.) It will give Aryzta some desperately needed breathing space to proceed with plans to cut expenses, which will cost the company 150 million euros. It will also make it less of a forced seller in its disposal program, which includes its stake in French frozen foods company Picard.
Assuming Aryzta achieves its targeted 90 million euros of yearly cost savings, plus its goal of 450 million euros from asset sales, net debt to Ebitda could fall to a less alarming 3 times or lower by 2021, according to Ryan.
Still, there's no guarantee of success. First of all, it has to hit those targets. Even if it's less desperate to sell stuff, it still doesn't have a strong hand. Chief executive Kevin Toland says he is determined to sell the stake in Picard at fair value, but buyers know the situation. 
Meanwhile, market conditions are difficult, with food manufacturers suffering from rises in grain prices because of the European heatwave, as well as a supermarket price war that makes it hard to pass those higher costs on to shoppers. At least Aryzta said it would meet its Ebitda forecasts for the financial year to July. But there's plenty of execution risk here.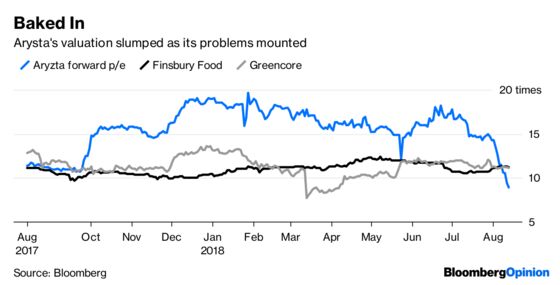 The shares have fallen more than 80 percent since January 2017, and are now worth about nine times estimated earnings — below the rating of rivals Greencore Group Plc and Finsbury Food Group Plc. That the share sale is bigger than the company's market value indicates plenty of earnings dilution, making that discount look fully merited.
Aryzta's new bosses still have a way to go to prove that their plans are better than half-baked.
This column does not necessarily reflect the opinion of the editorial board or Bloomberg LP and its owners.
Andrea Felsted is a Bloomberg Opinion columnist covering the consumer and retail industries. She previously worked at the Financial Times.