Dubai Bank's Turkey Bet Just Got $1 Billion Cheaper. And Riskier
(Bloomberg) -- On the face of it, Emirates NBD PJSC's acquisition of Turkey's Denizbank AS has become about $1 billion cheaper. Still, the deal could prove to be the riskiest yet for Dubai's biggest bank -- if it isn't derailed entirely.
Since Emirates NBD agreed to buy the Turkish lender from Russia's Sberbank for 14.6 billion liras -- worth $3.2 billion on May 22 -- the value of the acquisition has fallen to about $2.1 billion in dollar terms. That's due to the lira sinking more than 30 percent against the dollar, with most of that decline occurring in the past two trading days.
The prospect of the Emirati bank walking away has become "a more likely scenario," Jaap Meijer, an analyst at Arqaam Capital Ltd., said in a note. The lira's plunge "might trigger a materially adverse clause that would benefit Emirates NBD, creating the possibility of renegotiating the deal," he said earlier.
Sberbank Chief Financial Officer Alexander Morozov said the Russian bank expects to get its originally planned purchase price. "Work on closing the deal is going according to plan," and "there's no reason to doubt the successful completion of the deal as of today," he said by phone.
As for Emirates NBD, it's "closely monitoring" events, a spokesman said Sunday, declining to comment on confidential terms of the purchase agreement. The two parties originally intended to close the deal by the end of this year.
Emirates NBD fell 4.6 percent to close at 9.38 dirhams on Monday, sliding 6.2 percent in two days, and was one of the biggest losers on Dubai's main stock gauge. Denizbank, whose free float is less than 0.2 percent of its outstanding shares, tumbled 7.4 percent to its lowest since January.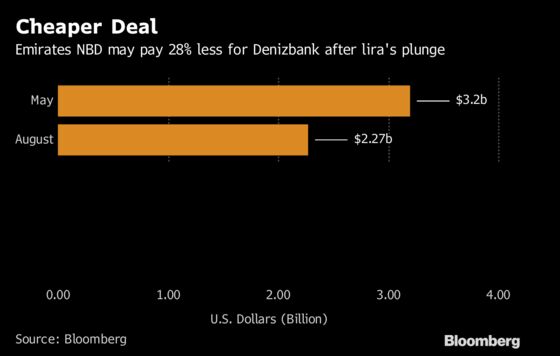 At the time of the deal, Sberbank's Morozov told Bloomberg that the final price would be in the range of $3.4 billion to $3.7 billion, depending on exchange-rate fluctuations and how long it takes to close the deal. He repeated Monday that the bank expects that price range. A "legally binding transaction documentation was signed by both parties," Sberbank said in an earlier email.
Turkey's highly competitive banking sector of 51 lenders is under pressure as investors worry that the country is sliding toward a full-blown financial crisis. The lira slumped as much as 17 percent against the dollar on Friday after President Recep Tayyip Erdogan showed no signs of backing down in a standoff with the U.S. It was down a further 7 percent on Monday.
As a supply of government-backed credit starts to run out, banks are also being squeezed as the state presses them to keep extending loans at interest rates that barely make up for inflation.
The deal has value for Emirates NBD "because of the growth opportunities and diversification benefit, but they are entering at the wrong time, which might require a higher capital injection into Denizbank," Bloomberg Intelligence analyst Edmond Christou said in an email. "Non-performing loans will increase, lending growth will decline from double digits to a high single-digit rate, and margins will be pressured as the cost of funds rises."
To read about Sberbank's decision to exit Turkey, click here.
Turkey's young and under-banked population of over 80 million is an attractive proposition for Gulf-based lenders that have limited expansion opportunities at home. Qatar National Bank bought National Bank of Greece SA's Turkish unit in 2016 and Commercial Bank of Qatar took full ownership of Alternatifbank AS the same year.
Denizbank, which mainly offers retail and corporate banking as well as loans to the agriculture and tourism sectors, posted a second-quarter net income of 700.7 million liras ($101 million).
"It all boils down to the commercial terms and clauses that they have negotiated with Denizbank," Aarthi Chandrasekaran, a vice-president at Shuaa Capital PSC, said by email. The depreciation in the currency "is a big deal, and if this decline is not contained then it could possibly move the initial purchase agreement."