China Banks Bad Loans Surge Most on Record Amid Deleveraging
(Bloomberg) -- Chinese banks' bad loans increased by a record last quarter, a potential setback for authorities struggling to encourage lenders to extend more credit.
Non-performing loans rose 183 billion yuan ($26.6 billion) to hit 1.96 trillion yuan by the end of June, the biggest quarterly jump in data going back more than a decade, the China Banking and Insurance Regulatory Commission said in a statement on Monday. Soured loans represented 1.86 percent of total advances, the highest ratio since March 2009.
"The NPL data is much worse than we had expected," said Zhao Yarui, a Shanghai-based analyst at Bank of Communications Co. "Tighter liquidity in the first half has certainly contributed to quick deterioration in banks' asset quality, along with a stricter policy on bad loan recognition."
China's two-year crackdown on its shadow-banking sector, which includes stricter rules for recognizing bad debt, made it harder for weaker borrowers to refinance. However, regulators started tapping the brakes on the deleveraging campaign in the past weeks as the $12 trillion economy slows and U.S. President Donald Trump threatens to slap more tariffs on Chinese goods.
The central bank now wants banks to lend more, and has taken several steps including easing one of its capital requirements under the so-called macro prudential assessment framework. Thanks to the central bank turning on the liquidity taps last month, the cost for banks to borrow from one another is now lower than the cost to borrow from the PBOC, but a large chunk of those funds is sitting idle.
Capital adequacy ratios have dipped across China's banking system in recent years, with dramatic declines at some smaller lenders. Falling stock markets have also made it harder to raise fresh capital. Chinese banks' overall capital adequacy ratio fell to 13.57 percent as of June from 13.64 percent at the end of March.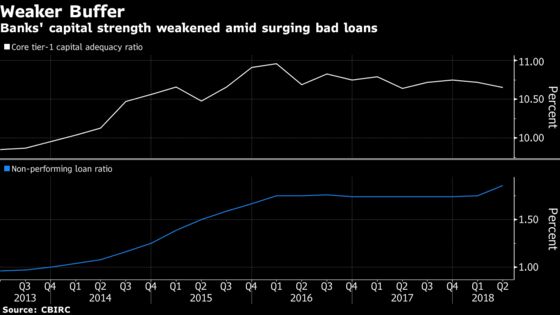 Part of the surge in soured debt can be explained by the regulator's recent decision to force lenders to reclassify as non-performing all loans overdue for more than 90 days. The move will lead to a 14 percent jump in Chinese banks' bad loans, with most of the impact falling on city and rural commercial lenders, according to analysts at UBS Group AG.
About 80 percent of the increase in second-quarter bad debt came from rural commercial banks, CBIRC data showed. However, the industry's total profits rose 6.4 percent in the first half to reach 1 trillion yuan, as margins improved at most lenders.
Chinese banks advanced 9 trillion yuan of new loans in the first half of 2018, an increase of 1 trillion yuan from a year earlier, according to the central bank.