Goldman Spillover Index Signals Lira Contagion Risk Limited
(Bloomberg) -- Emerging-market investors worried about potential contagion from Turkey's deepening crisis may find some solace in Goldman Sachs Group Inc.'s spillover index.
With the exception of Russia's ruble, recent moves in developing-nation currencies have generally been smaller than what the gauge predicted despite the Turkish lira's plunge, Goldman Sachs said in a report dated Aug. 10. It used analysis of the recent slump in Argentina's peso to estimate the lira's impact on its emerging-market peers.
"From a fundamental standpoint further spillovers should be limited," strategists including New York-based Zach Pandl wrote in the report. "To the extent that we continue to see spillovers to other markets with better fundamentals, those are the places we will look for opportunities rather than in the lira itself."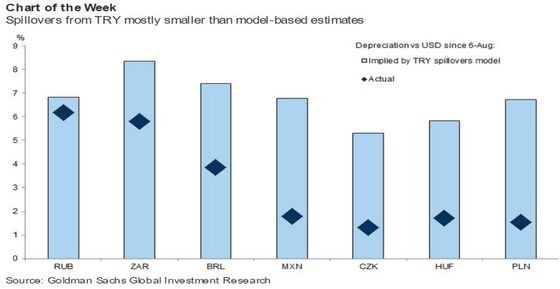 The lira has plummeted 28 percent this month as President Recep Tayyip Erdogan refused to bow to U.S. political demands and market pressures. MSCI Inc.'s gauge of currencies in major developing nations lost 2 percent in the same period.
As the lira extended its descent to a new record Monday, India's rupee too touched an all-time low. The currencies of South Africa and Indonesia -- which have the highest rates of foreign ownership of government bonds -- tumbled to multi-year lows, prompting Bank Indonesia to intervene in the market.
Turkey's woes have been "some time in the making" and investors have had opportunities to adjust their positions, Goldman said. Fundamental linkages aren't large given the relatively small trade-weights of Turkey in other major developing-nation countries' baskets and the exposure of banks, according to the report.