RBA Says Rate Hike Likely at Some Point Despite Below-Target CPI
(Bloomberg) -- Australia's central bank said higher interest rates are likely to be required at some point despite seeing inflation remaining below target through 2020.
In a generally upbeat assessment, the Reserve Bank maintained its forecasts for above-average economic growth and a gradual decline in unemployment together with a pickup in wages and inflation, according to the quarterly Statement on Monetary Policy released in Sydney Friday.
RBA lifts average 2018 GDP growth to 3.25% from 3% in May
Sees 5% unemployment, 2.25% core, headline CPI at end-2020
CPI, GDP and jobless forecasts otherwise little changed
Click here for the RBA's latest growth and inflation forecasts
"Higher interest rates are likely to be appropriate at some point, if the economy continues to evolve as expected," the central bank said. "Given the gradual nature of the improvement, however, the board does not see a strong case to adjust the cash rate in the near term."
The RBA has kept rates at a record-low 1.5 percent for two years as it seeks to play the anchor role in the economy and support confidence. This strategy has shown signs of bearing fruit -- although strong hiring has been diluted somewhat by a burgeoning labor force that's kept unemployment at 5.4 percent, almost half a percentage point above estimated full employment.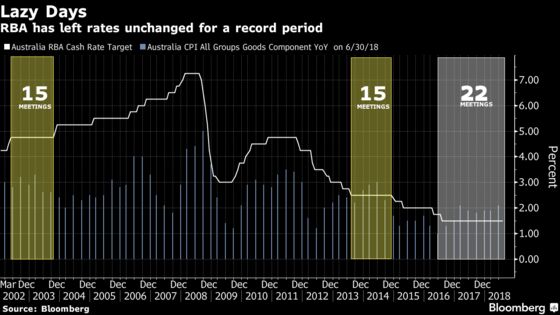 Policy makers also noted the "unusual" decision by the Trump administration to add fiscal stimulus at a time when the U.S. economy is at full employment. This could spur faster inflation and prompt the Federal Reserve to raise rates "by more, or more quickly" than currently anticipated, the RBA said. That in turn could drive the U.S. dollar higher and see Australia's currency depreciate against the greenback.
"In this environment, stronger global demand and a broad-based depreciation of the Australian dollar would be likely to boost growth in domestic activity and tradables inflation," the central bank said.
While the RBA assessed the global outlook as positive, it said risks to growth from trade protectionism "have increased" and this, together with recent policy actions by Chinese authorities to manage financial risks and slowing growth, generates uncertainty about the outlook for China. Australia is the most China-dependent economy in the developed world with about a third of export income coming from the world's second-largest economy.
As to the near-term domestic outlook, the central bank said growth "is likely to have remained solid" in the second quarter despite drought in the countryside. It said inflation is expected to be "quite low" in the third quarter as utilities prices reverse recent annual gains and government policies cut childcare costs. These are assumed to be one-offs, according to the RBA, which it will look through.
Resource exports are expected to contribute to growth over the next two years before stabilizing at high levels, while mining investment is forecast to trough in late 2018 or early 2019.
The bank said leading indicators of labor demand suggest employment will grow at an above-average pace over the second half of the year, though slower than the blockbuster gains of 2017. The strong jobs market is expected to encourage more people to either enter or delay leaving the labor force and, as a result, the RBA said, the participation rate is expected to rise a little further.
"The economy is not expected to encounter broad-based capacity constraints for some time, although liaison contacts indicate that capacity constraints are affecting construction activity, particularly in Sydney, and there also continue to be difficulties attracting workers with specialized information technology skills," the statement said.