Philippine Central Bank Chief Ready to Act Again If Needed
(Bloomberg) -- The Philippine central bank is prepared to act again to restrain inflation, Governor Nestor Espenilla said, a day after raising interest rates for a third consecutive meeting.
"We have not closed the door" on further action, Espenilla said in an interview with Bloomberg TV's David Ingles and Rishaad Salamat on Friday. "But as you know, we do expect the inflation to potentially peak, perhaps by next month."
"So we will have to assess that piece of information, but not only that information," the governor said. "We will have to revisit our forecast horizon and act on that basis."
Facing criticism the central bank had been too slow to act against inflation, Espenilla delivered a bigger-than-usual half a percentage point hike on Thursday, taking the benchmark rate to 4 percent.
Global emerging markets are under pressure as rising U.S. interest rates and a stronger dollar prompt investors to pull money out of riskier assets. From Indonesia to Argentina, central bankers are grappling with sliding currencies and capital outflows, pushing them to take stronger action to avoid full-blown crises.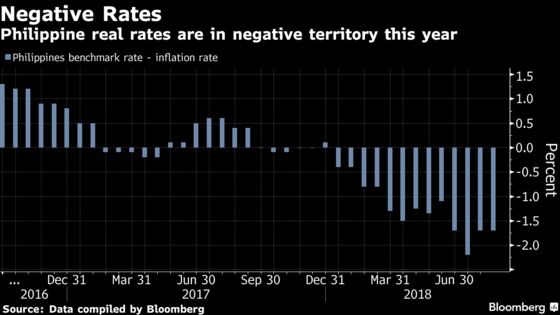 Inflation in the Philippines is at the highest in five years at 5.7 percent, and the governor has pledged to bring it back to the central bank's target of 2 percent to 4 percent in 2019. The peso has lost 6 percent against the dollar this year, among the worst performing currencies in Asia.
"We look for another 25 basis-point hike in the fourth quarter, with the risk that this comes earlier should price pressures remain elevated," Benjamin Shatil, an economist at JPMorgan Chase & Co. in Singapore, said in a note Thursday.
The rate hike came hours after a report showed the economy grew at the slowest pace in three years at 6 percent in the second quarter.
"There will be a recovery in growth," Espenilla said, citing the government's massive infrastructure plan. "There are enough sources of domestic demand to keep growth at a high level."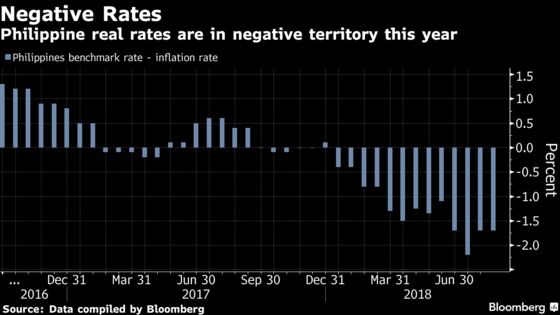 President Rodrigo Duterte is building roads and railways, including a subway in traffic-clogged Manila, to boost the economy, while targeting growth of 7 percent to 8 percent for this year. Growth last quarter was hurt by the weak agricultural output, which was also partly to blame for the surging prices of food like vegetables.
The Monetary Board had considered an unscheduled policy meeting, Espenilla said, similar to what Indonesia's central bank did in May where it also raised its benchmark rate.
"But the Monetary Board decided that it's better to stick to our schedule because, while the inflation outlook raises concerns, we don't see it as something we need to respond with an off-cycle adjustment," Espenilla said. "So basically, we are sticking to that course of action."
Political pressure has also mounted, with President Rodrigo Duterte's spokesman saying this week the president is "gravely concerned" by the pick-up in inflation and House Speaker Gloria Arroyo calling for half a percentage point rate hike.
"We cannot stop people from making their own comments," Espenilla said. "But the BSP is driven objectively by its own mandate and looking at the data."
The governor, who is recovering from cancer, said he is in good health.
"I am much, much better now," Espenilla said. "The illness that I have takes a bit of time to fully recover and I will be on monitor for the next couple of years to see if nothing else deteriorates. But for now, I am up and about and doing very well."