Glenview Scores Win over Carl Icahn as ISS Supports Cigna's Deal Plan
(Bloomberg) -- Cigna Corp.'s proposed $54 billion acquisition of Express Scripts Holding Co. got a boost Friday after a prominent shareholder advisory firm said the deal is "financially compelling."
The recommendation is at odds with billionaire investor Carl Icahn's efforts to drum up investor opposition to the takeover of the pharmacy benefit manager ahead of an Aug. 24 shareholder vote. He's called the potential merger "a travesty" that could go down as one of the worst in history.
Institutional Shareholder Services Inc. urged investors to support the deal. The firm's recommendations can be influential in cases where support for a deal may be vulnerable.
"For investors with exposure to both sides of this equation, the value proposition of a combination is straightforward: the potential benefits of the combination outweigh the risks, especially given that these risks are, to some degree, unavoidable," ISS said in the report.
Representatives for Icahn and Cigna didn't return requests for comment. Express Scripts shares rose 2.8 percent to $84.11 at 9:35 a.m. in New York, the highest intraday price since the deal was announced. Cigna declined 1.1 percent to $183.35.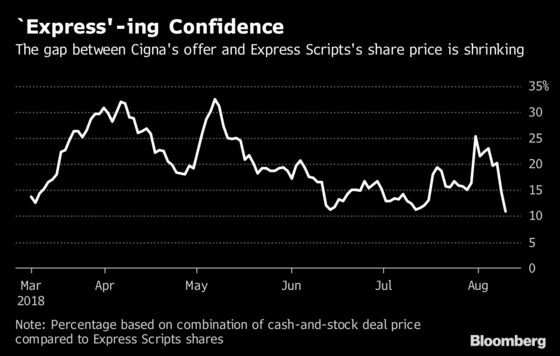 Cigna, based in Bloomfield, Connecticut, agreed in March to the cash-and-stock deal for St. Louis-based Express Scripts with the goal of bringing two branches of the health-care services sector under one roof, saving money for clients of the combined company.
The ISS report acknowledged, however, that shareholders who own just Cigna may see the takeover as less attractive, since the market for Express Scripts's pharmacy services has become more challenging since it was announced. Amazon.com Inc. has announced its intentions to get into the market for prescription drugs, and pharmacy benefit managers have become a target of the Trump administration's effort to bring down medical costs.
"Nonetheless, the proposed merger is a financially compelling transaction that gives the combined company immediate scale with strong cash flow generation," ISS said.
Icahn owns a 0.56 percent stake in Cigna. He came out against the deal this week, saying the insurer is "dramatically overpaying" for Express Scripts. While he has acknowledged he faces an uphill battle to help block the deal, the billionaire investor has urged Cigna investors to vote against it based in part on the threat of Amazon.
The activist investor said he believed Cigna would be better served by pursuing a multiyear partnership with a firm such as Express Scripts rather than a takeover, and instead use its cash to buy back shares. Cigna could be worth $250 a share, he said.
Pharmacy benefit managers negotiate rebates from drugmakers and have been criticized for keeping some of the funds instead of passing savings directly to consumers. Some critics contend that arrangement creates incentives for pharmaceutical companies to raise prices.
Icahn has raised concerns around the regulatory risk surrounding Express Scripts's rebate business. He said if the rebate system was eliminated, Express Scripts, in which Icahn holds a short position, would be worth less than $50 a share on a standalone basis.
Cigna has said Express Scripts retains about $400 million of rebates from its clients. That doesn't include the company's own prescription drug plans, rebates related to its relationship with the health insurer Anthem Inc. or rebates linked to patient outcomes.
Analysts at Evercore ISI have put that figure much higher, at about $850 million, although they said it wasn't clear how much revenue is linked to the categories Cigna didn't disclose.
Another shareholder, Glenview Capital Management, which is invested in both stocks, said Thursday that it supported the tie-up.
ISS said it believe the transaction would be "significantly accretive" to earnings in the year following closing. It noted Cigna's management has said it expects to achieve earnings per share of between $20 and $21 a share in 2021 versus $18 a share on a standalone basis, and the deal will create $600 million in synergies.
"Considering these factors, and primarily the sound strategic rationale that has been laid out by a credible management team, shareholders are recommended to vote for this transaction," ISS said.