Thyssenkrupp's Industrial Unit Drags Down Quarterly Earnings
(Bloomberg) -- Thyssenkrupp AG, the German conglomerate facing pressure from activist investors, reported a loss at its industrial unit that helped lower fiscal third-quarter earnings amid a tumultuous 2018.
Adjusted earnings before interest and taxes dropped to 332 million euros ($386 million) in the three months through June, from 620 million a year earlier, the Essen-based company said Thursday in a statement. It said adjusted Ebit was affected by a 216 million-euro loss at its industrial-solutions segment.
Thyssenkrupp warned last week its earnings would be lower than previously thought because of cost overruns and slower sales at the industrial unit.
The company also set profit-margin growth targets for its main divisions for 2022, and said it would aim to generate free cash flow before mergers and acquisitions of around 1 billion euros by then.
Thyssenkrupp has had a turbulent year, with Chief Executive Officer Heinrich Hiesinger and Chairman Ulrich Lehner both resigning soon after the company signed a deal to form a steel joint venture with India's Tata Steel Ltd. Executives had been under pressure from activist investors Cevian Capital and Elliott Management Corp. who had grown impatient with what they saw as slow progress in streamlining the steel-to-submarine conglomerate.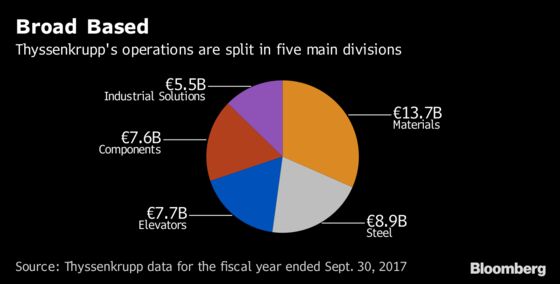 The company said it posted negative free cash flow before M&A of 1.59 billion euros for the first nine months of the fiscal year.
Thyssenkrupp's acting interim CEO, Guido Kerkhoff, said he wasn't happy with the company's bottom line.
"There no point in sugar-coating it," Kerkhoff said in the statement. "The cash flow is unsatisfactory, and that is not a situation which can be sustained long term."
In an interview on Bloomberg Television, Kerkhoff said he's focused on turning the business around and focusing on a better cost structure. He declined to comment on whether he's in the running for the permanent CEO role, and said talks on whether the company would change its business structure would be left for the next leader.
Thyssenkrupp's Turbulent Three Months
Thyssenkrupp's Stock Jumps on News of Elliott Stake
Company Signs Deal to Form Joint Steel Venture With Tata
CEO Heinrich Hiesinger Quits Under Pressure From Investors
Chairman Ulrich Lehner Quits After Clashes With Board Members