Quandary on the Caspian as Sanctioned Neighbors Rattle Azeri Peg
(Bloomberg) -- U.S. sanctions on Turkey and Russia have sent shockwaves into nearby Azerbaijan, putting a question mark over the Caspian Sea oil producer's currency peg as it scrambles to keep local companies competitive.
Exports could be hindered after the Turkish lira plunged about 30 percent this year, compared with a drop of less than 0.1 percent for the Azeri manat. In Russia, one of Azerbaijan's biggest trade partners, the ruble has weakened 13 percent amid U.S. sanctions, while the reinstatement of penalties on Iran has pushed the currency of Azerbaijan's southern neighbor to a record low against the dollar.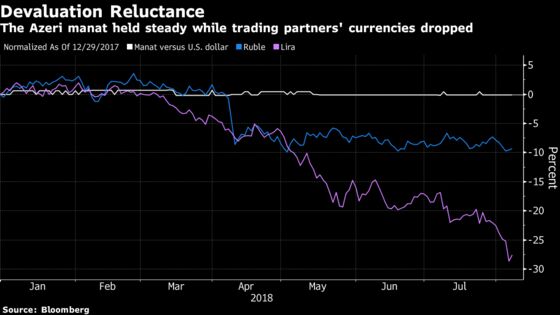 "The central bank, having finally tamed inflation, doesn't seem to have an appetite for a further devaluation of the manat," said Samir Aliyev, an analyst at the Center for Support to Economic Initiatives research group in Baku. "Yet it may be pressed by the government to devalue the currency by 5 percent to 10 percent this year to help non-energy exports."
Central-bank Governor Elman Rustamov reiterated on Aug. 1 a pledge to shift to a free float in the medium term. At the same time, "very serious" currency and inflation volatility in Azerbaijan's trade partners is a cause for concern, he said, and the government should take steps to support the country's non-energy exports. The country sent fruit and vegetables worth $280 million abroad in 2017, its biggest export after oil and gas.
More on the return of dollar pegs in ex-Soviet petrostates
A devaluation would see Azerbaijan follow other emerging-market nations including Angola and Pakistan in allowing their managed currencies to weaken amid the emerging-market retreat this year.
Azerbaijan, which suffered two devaluations in 2015 and shifted to a managed floating exchange rate as crude prices collapsed, has kept the manat around 1.7 versus the dollar since March 2017. Its reliance on oil, and its hesitant efforts to diversify, have pushed it to take a cue from Gulf states, where most nations have pegged their currencies to the U.S. dollar for decades.
The sovereign wealth fund, Sofaz, increased dollar sales in the first half of the year to $2.97 billion, compared with $1.69 billion a year earlier.
The latest stage in the Turkish lira's downward spiral was triggered by a diplomatic row with the U.S., which imposed sanctions on its NATO ally over the detention of an American pastor. Jitters over sanctions intensified in Russia on Wednesday after the U.S. said it was imposing new restrictions to punish President Vladimir Putin's government for the March nerve-agent attack on a former spy and his daughter in the U.K.