Ping An's Prudential Pursuit Would Set Record for China M&A
(Bloomberg) -- Ping An Insurance (Group) Co., one of China's most ambitious financial companies, is now weighing the biggest-ever acquisition from the country.
The Shenzhen-based insurer has evaluated acquiring Prudential Plc's Asian operations, people familiar with the matter said earlier this week. The regional business is worth about 40 billion pounds ($51.5 billion), according to Panmure Gordon & Co., and any buyer may need to pay a premium to gain control.
A deal that large would easily surpass China National Chemical Corp.'s $43 billion takeover of Swiss pesticides maker Syngenta AG as the largest Chinese outbound deal on record, data compiled by Bloomberg show. Ping An has already sounded out the Chinese government about whether it would be supportive of a deal, one of the people with knowledge of the matter said.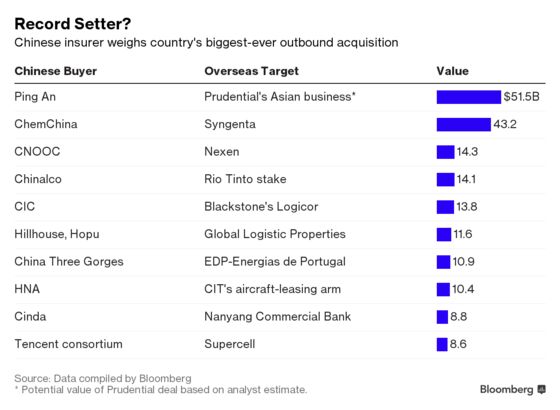 Ping An is also looking for deals beyond its core business in areas such as
health care. It is in talks with other investors about a potential joint bid
for China Biologic Products Holdings Inc. that would compete with an existing proposal from Citic Capital, people familiar have said.