Pandora CEO Steps Down After Jewelry Maker Warned on Profit
(Bloomberg) -- Pandora A/S Chief Executive Officer Anders Colding Friis will step down after the once-high-flying Danish maker of charm bracelets fell to Earth.
The 54-year-old CEO's plan to sustain growth at the world's largest jewelry maker misfired after shoppers stopped flocking to its 2,500 stores, amassed across shopping malls and town centers in more than 100 countries during a two-decade expansion.
The company is looking for a successor after a profit warning earlier this week cost it almost a quarter of its market value. Pandora said on Thursday it was beset by a range of problems, including weaker-than-expected sales of new charm bracelets and rising costs.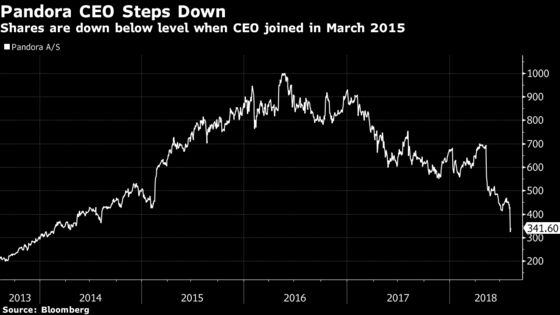 It has been battling a weakness in the U.S. retail market and a gray market in China, which has eaten into revenue and profit, though it still plans to add 50 new stores this year.
Pandora's time as a listed company has been a roller-coaster ride. In the period 2011 through 2016, the shares jumped almost 20-fold as the company re-positioned itself in the so-called affordable luxury segment. But as growth has slowed, more and more hedge funds have built substantial short positions against the stock.
The shares were up 4 percent at 355.5 kroner as 12:30 p.m. in Copenhagen.
At the start of the year, Colding Friis had sought to reset the company's targets, seeking more "realistic" goals as its expansion slows. While he now acknowledges that he had been "a bit too optimistic," he said that he still believes in the strategy.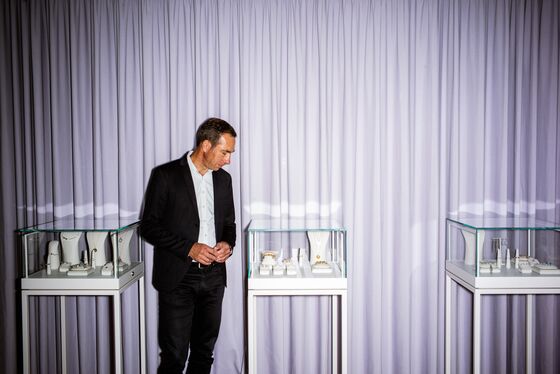 "I don't have a lot of regrets when it comes to the things we've done together at Pandora," he said in a Bloomberg TV interview.
The CEO's departure will probably "be taken positively by the market as many eagerly awaited a re-shuffle in Pandora' management team," Zuzanna Pusz, an analyst at Berenberg, said in a note.
Chairman Peder Tuborgh said a new CEO will have to follow the strategy laid out in January. It's still the right one, even though the company will fail to reach the targets this year, he said. The new CEO will also have to "restore the relationship" with the stock market, the chairman said by phone.
The company late Monday said that it expects sales to grow 4 to 7 percent in local currencies this year, down from a forecast of 7 to 10 percent. It warned its profit margin on earnings before interest, tax, deprecation and amortization will be lower than anticipated at about 32 percent, down from a prediction of 35 percent.
The shares have lost an annualized 15 percent since Colding Friis started in March 2015, according to data compiled by Bloomberg. That compares with a 3.1 percent decline in a peer group of companies.
Colding Friis joined to enjoy the tail-end of the golden period before problems started to dominate the agenda and depress the stock.
The company also hired former Body Shop CEO Jeremy Schwartz as chief operating as of Sept. 1. He will jointly manage the company with CFO Anders Boyer until a new CEO is found, the company said.