Energy Policy Dysfunction Lingers as Turnbull Plan Blocked
(Bloomberg) -- Australian Prime Minister Malcolm Turnbull has failed to secure support from state governments for his plan to ensure cleaner, cheaper and more reliable energy, meaning uncertainty for investors is set to drag on.
Energy Minister Josh Frydenberg met with counterparts from the nation's eight states and territories on Friday to win backing for the government's National Energy Guarantee. Ministers from Victoria and Queensland state indicated they remain unconvinced and are withholding support.
The lack of consensus is a roadblock to Turnbull's bid to fix Australia's muddled energy policies, which have saddled the nation with sketchy power supplies and spiraling prices. Though one of the world's biggest sources of coal and natural gas, Australia has struggled to keep its own energy house in order amid a decade of political dysfunction and policy misfires, with a surge in renewables failing to fully compensate for the shutting of aging coal-fired plants.
Turnbull's Liberal-National government is attempting to win over states run by the main opposition Labor party, including Victoria and Queensland, which are seeking greater commitments to reduce carbon emissions. The price of failure for Turnbull could be high -- his government trails in opinion polls ahead of a national election due by May.
"The National Energy Guarantee needs more work and we have always been clear -- we won't sign up to any scheme that threatens Victoria's renewable energy industry and the thousands of jobs it's creating in our state," Victoria Energy Minister Lily D'Ambrosio said in an emailed statement on Friday.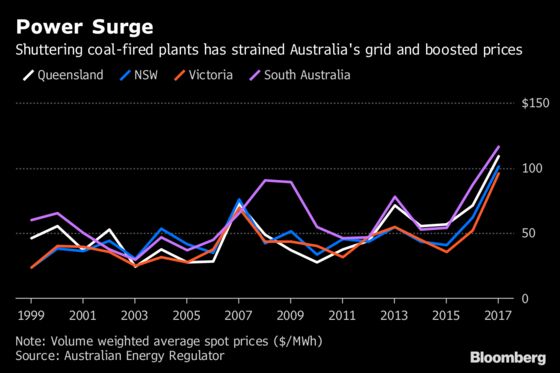 The focus is now on Tuesday, when Turnbull will host a meeting of his own coalition lawmakers in Canberra in a bid to win unanimous internal support for the NEG.
That bid may also fall short as some -- including former Prime Minister Tony Abbott -- have threatened to vote against legislation to enact it. They say the NEG doesn't do enough to support the coal industry, which is Australia's biggest export earner.
Queensland Acting Energy Minister Cameron Dick said on Friday the legislation needs to be approved by coalition lawmakers before his state will consider approving the NEG.
"The states are driving a hard bargain -- probably quite wisely," said Kobad Bhavnagri, Bloomberg New Energy Finance's head of research in Australia. "Approving the NEG before the coalition party-room signs off risks giving a blank check to" Abbott and other supporters of new coal-fired power stations.
Turnbull is striving to engineer a plan that will deliver affordable and reliable energy, as well as reducing emissions, without subsidies, taxes, emissions-trading schemes or carbon prices. He also aims to encourage development of all types of power sources and provide the clarity investors want before committing to new projects.
The NEG may lead to a reduction in residential bills of about A$120 ($89) a year between 2020 and 2030, Australia's department of the environment and energy has said.
There are two key parts to the plan: a reliability guarantee and an emissions guarantee, according to an Energy Security Board formed to provide advice to the states and territories on the NEG.
Under the board's recommendations, the market operator would provide a 10-year forecast on whether electricity supplies will be reliable, while retailers who don't meet their obligations would face penalties. Retailers must also meet emissions targets based on Australia's international obligations.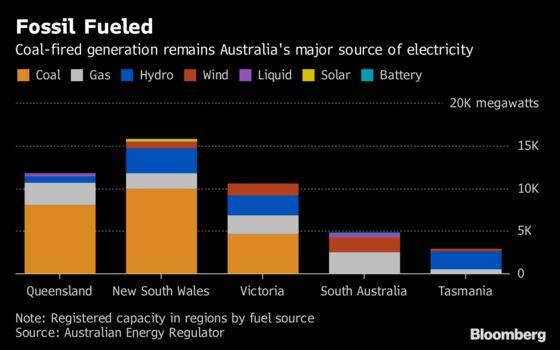 Turnbull claims he's "agnostic" on the sources of new energy generation so long as they allow Australia to reach its Paris Agreement commitment of cutting emissions by at least 26 percent below 2005 levels by 2030. The former banker says he needs approval from all states and territories for the NEG to work efficiently.
"Australian eyes are on this room today," Frydenberg said at the start of the meeting in Sydney. "What happens here matters to the outcomes around every Australian kitchen table and every Australian factory floor."