East of Trump Tower, a New Worry Over China's New York City Properties
(Bloomberg) -- The location shouts midtown Manhattan. To the southeast stands the UN, to the southwest Grand Central. And, four blocks over, an edifice that, in a blink, became a landmark of presidential power: Trump Tower.
Now the address, 850 Third Ave., has suddenly been transformed from a workaday office tower into a potential national security concern.
The apparent reason: It is owned by a big Chinese conglomerate, HNA Group Co. -- a giant that, in recent years, emerged seemingly out of nowhere to become a potent symbol of China's global ambitions.
HNA acquired 850 Third before Donald Trump was elected president. But now its ownership is raising concerns for the Committee on Foreign Investment in the United States, which reviews the national security implications of foreign investments. There are "unique facts and circumstances" regarding the location, a representative for HNA said in a statement late Wednesday.
One potential issue: the 21-story building houses one of only two police precincts that are within a mile of Trump Tower, the president's base when he's in New York. HNA said it's taking steps to address CFIUS's concerns, without providing further detail. Those issues didn't exist when HNA bought the property, according to the company's statement.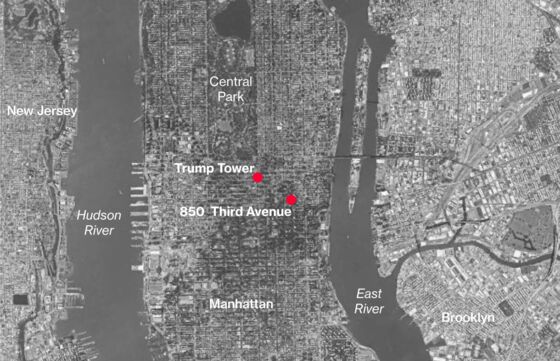 Still, 850 Third Ave. has suddenly become a subject of speculation. The New York Post reported late Wednesday that the Trump administration was poised to seize a majority stake in the building. HNA denied the suggestion.
"There is no seizure or forced sale of 850 Third Ave. underway or pending, and it is grossly inaccurate and misleading to suggest otherwise," it said.
A representative for CFIUS didn't immediately respond to a request for comment.
MHP Real Estate Services, which owns a minority stake in the building, was advised by HNA and its attorney roughly a month ago that the Chinese company's stake had been placed into a trust, according to a person with direct knowledge of the matter.
Such moves aren't uncommon. Cosco Shipping Holdings Co. last month pledged to sell a container terminal in California to allay CFIUS concerns regarding its acquisition of Orient Overseas International Ltd. Pending its disposal, and under the accord with the departments of Homeland Security and Justice, Cosco said at the time that the ownership of the terminal would be transferred to a trust, whose principal trustee needed to be a U.S. citizen, not a shareholder of Orient Overseas and independent of Cosco.
The scrutiny comes amid rising tensions between the U.S. and China's government, which is said to have decided to help HNA pull itself out of recent liquidity challenges. The Chinese conglomerate, which has sold more than $17 billion in assets to reduce its massive debt load, has been marketing the Manhattan building since at least February. It has since sold real estate holdings from San Francisco to Minneapolis.
Trump has been zeroing in on Chinese investment in the U.S. amid his escalating trade war with the world's second-largest economy.
The increased attention has seen some high-profile deals scuppered, such as Chinese billionaire Jack Ma's attempt to buy Dallas-based payment provider MoneyGram International. Broadcom Ltd.'s $117 billion attempt to buy California's Qualcomm Inc. -- which would have been the largest tech deal in history -- was shot down on concerns the merger would benefit China's emerging telecommunications giant Huawei Technologies Co. And, this week, China's Shenzhen Energy Group Co. ended a plan to buy U.S. solar power assets from a Canadian Solar Inc. unit after failing to get CFIUS approval within an agreed-upon time.
Plans to bolster CFIUS's powers may mean more deals get into trouble. The body's reach may be expanded under a bill that Congress is expected to pass in August.
This isn't the first time HNA has crossed CFIUS's radar. In late April, it abandoned plans to buy SkyBridge Capital from former White House Communications Director Anthony Scaramucci after waiting months for approval from the body. And last year, a $325 million deal to purchase a U.S. technology firm collapsed because of HNA's failure to properly answer questions from CFIUS about the transaction, according to a complaint filed in New York state court. HNA has also faced heightened scrutiny across its holdings worldwide, partly because of questions about its ownership.
In 2016, a real estate deal by another Chinese company, Anbang Insurance Group Co., was called off after concerns were raised by CFIUS. Anbang was trying to buy the Hotel del Coronado, an iconic San Diego-area property near a major naval base, from Blackstone Group LP.
HNA agreed to buy 850 Third Ave. before Trump was elected. The company has become a poster child for a swath of Chinese acquirers that sought out high-profile deals around the world before the government started reining them in last year amid concern about unsustainable corporate debt levels.