A 'Killer Campaigner' for the GOP Swims Against a Blue Tide in Virginia
(Bloomberg) -- Republican U.S. Representative Barbara Comstock is trying to hold back the tide in northern Virginia.
She's known as an advocate for her constituents and a relentless campaigner, but Comstock represents an area that has all the ingredients Democrats hope to exploit this year in order to flip Republican seats and retake control of the House: a wealthy, educated suburban electorate that's increasingly diverse.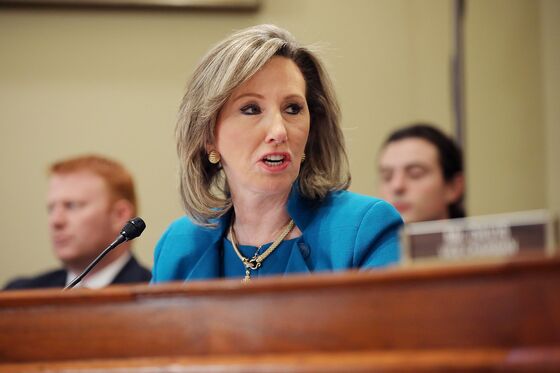 "It's a marquee race in a suburban area which tends to be dominated by college-educated voters where Donald Trump has had the most difficulty becoming popular," said Whit Ayres, a GOP pollster. "Those are the kinds of districts where Republicans are going to have more of a challenge this year."
That's been highlighted in several special elections for Congress over the last 12 months, including Tuesday's vote in central Ohio. In that race, Democrat Danny O'Connor is within a percentage point of Republican Troy Balderson -- despite a 5 to 1 spending advantage for GOP-allied groups in a district long dominated by Republicans -- largely on the strength of turnout from parts of Columbus and its close-in suburbs. The outcome won't be settled until more than 3,000 provisional ballots are counted.
More troubling for Comstock: Trump won the Ohio district by 11 percentage points in 2016 while Democrat Hillary Clinton won Comstock's district by 10 points. Last year, Democrat Ralph Northam won Loudoun County, which has almost half the population of Comstock's district, by 20 points in the governor's race over Ed Gillespie, the former Republican National Committee chairman.
Democrats need to flip at least 23 Republican-held seats nationwide to gain control of the House, and Comstock's is one of at least three being targeted in Virginia, a once reliably Republican state that's been trending Democratic in national elections. In Comstock's case, the non-partisan Cook Political Report rates the race as leaning Democratic.
Comstock's district, stretching from the banks of the Potomac to the West Virginia border, will be more sensitive to national politics, given its proximity to Washington, according to Mark Rozell, dean of George Mason University's Schar School of Policy and Government. It also has a heavy concentration of federal employees and contractors.
"They may think Comstock has done a good job, she has represented the district well, she does great constituent services, she shows up everywhere to every local event, and for some of these voters none of that matters," Rozell said. "The bigger issue is sending that message about the current direction of the Trump administration."
Comstock's campaign and her congressional office didn't respond to multiple emails and phone calls requesting an interview sent over a period of three weeks.
Despite Trump's persistently low approval ratings and the other broad challenges the GOP faces in maintaining its hold on Congress, Ayres and other Republicans insist that Comstock, 59, is better positioned than some incumbents girding against a possible Democratic wave in November.
"She's obviously been able to localize the race in the past and be successful at it," Ayres said. She "knows that district very, very well."
Comstock is a "killer fundraiser and a killer campaigner," said Maddie Anderson, a spokeswoman for the National Republican Congressional Committee, and has proven in past races that she can beat the odds.
At the same time Clinton won her district with 52 percent of the vote in 2016, Comstock garnered 53 percent in being re-elected for a second term.
Democrat Jennifer Wexton, 50, the former prosecutor and state senator running against Comstock, said that even with anger at the Trump administration motivating local Democrats, the most common concerns she hears from voters include healthcare and infrastructure.
"If Donald Trump would give me something to work with him on, I'd be happy to do it," Wexton said in an interview. "When he came into office and was saying he'd do all these great infrastructure projects, I was really optimistic and hopeful that something was actually going to happen because that is a huge issue for us in northern Virginia."
Wexton is critical of moves by Trump and congressional Republicans that got rid of the individual mandate portion of Obamacare, saying it's driving up premiums. She said she also would press Congress to lift the limits on deductions for state and local taxes that were part of the Republican tax cuts passed last year.
Broader national issues still are likely to come into play.
The eastern part of the district, under the flight path into Dulles International Airport, is home to technology, telecom and aerospace companies including Verizon Business Global LLC, WorldCom Inc. and Aeronautical Systems Inc. Wexton said such firms are worried about the Chinese stealing intellectual property, and could support Trump's effort to push back on this practice by implementing tariffs on Chinese goods.
Yet a trade trade war and Trump's tariffs on steel and aluminum could be devastating for the western part of the district where the traffic of the Washington, D.C., suburbs eases into the green vineyards and apple orchards of the Shenandoah Valley.
Just a 5-cent increase in the cost of aluminum cans, coupled with higher gas prices for distribution, would eat away much of the profit for Winchester Ciderworks, where Stephen Schuurman works with Diane Kearns to make hard cider from apples grown on the farm that has been in her family for four generations.
The small business with nine full-time employees is also spending more time trying to find foreign seasonal workers, even with proper documentation, willing to come to the U.S. amid Trump's anti-immigrant rhetoric and policies, according to Schuurman, who runs the cider production.
"Without a migrant workforce, nobody would pick our fruit," Schuurman said.
Schuurman, originally from England but now a U.S. citizen, said the threat from tariffs and a tight labor market have done more to challenge the company than lower taxes did to help. He said on a personal note he's also worried about healthcare after a hospitalization in April set him back more than $17,000. His insurance company will pay $46 of that total and informed him that he now has a pre-existing condition.
Comstock voted against the House GOP's plan to overhaul the Affordable Care Act, saying at the time that she wanted to repeal Obamacare, as that law is known, but she didn't agree with that plan to replace it. Her overall voting record shows that she has voted with Trump's position almost 98 percent of the time.
It hasn't been easy for a Republican to stand up for federal employees when many of her colleagues would prefer to trim the size of the government agencies and freeze salaries to pay for other priorities. Comstock has been a "strong champion for federal employees" even if that means playing defense against her own party, according to Jessica Klement, vice president for advocacy with the National Active and Retired Federal Employees Association.
One of Comstock's most visible acts of defiance was when she told Trump in February that Congress shouldn't shut down the government over funding for his border wall. An impasse on immigration legislation later kept the government from being funded for three days, and Klement said even a short disruption, which included a weekend, creates hardship for the federal employees and contractors in Comstock's district.
The issue may arise again just before the November election. Trump has threatened to shut down the government over border security, regardless of the "political ramifications." Republican leaders in Congress are counting on him to wait until after midterms to force a confrontation.
"There's a sentiment out there with a lot of people who quite simply are fed up with the Trump administration and the antics of this president from their standpoint," Rozell said. "Voting in an midterm election against the president's party that has generally been supportive of him is one way to send that message."