Elf Can't Beat Luxury Brands Even With Cheap Prices
(Bloomberg) -- Elf Beauty plummeted 30 percent, the most ever and to the lowest ever, with its ugly reputation of cutting growth targets prompting analysts to finally throw in the towel, as Citi's Wendy Nicholson put it. Four Wall Street firms downgraded the stock as of this writing.
Elf operates in the mass market cosmetic segment where sales growth "remains subdued" versus the double-digit growth being enjoyed by the luxury segment, Bloomberg Intelligence analyst Deborah Aitken said. Just look at Estee Lauder: Elf is down 12 percent in two years vs Estee Lauder up 43 percent.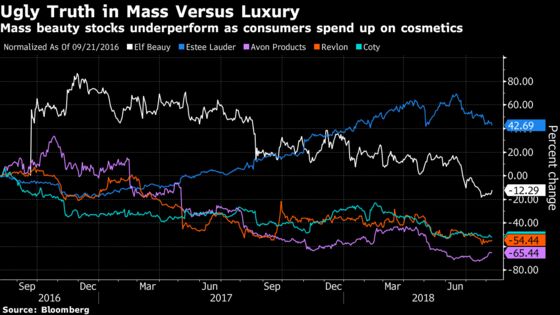 Downgrades to neutral from buy (PT $16 from $24)
Concern reflects combination of disappointing YTD sales growth and steady negative revisions to forecasted top-line, "which have persisted for some time"
Furthermore, the premise of low-cost manufacturing in China is at risk given trade relations/tariffs and idea of ELF having higher margins than its peers is changing as mgmt has identified a need to increase its investment spending
Seems ELF is "struggling to hold share" even with "incremental distribution expansion and a bunch of new products"
PIPER JAFFRAY (Erinn Murphy)
Cuts to underweight from neutral (PT to $10 from $17) as 2Q's results "heightened our concern of decelerating unit productivity"
Underlying sales for 3Q are forecasted down mid- to high-teens, and should underlying sales trend not improve, Murphy sees "growing risk of shelf-space cuts into 2019"; therefore co.'s view for "slight growth" in 2019 would be 2H weighted, "at best"
Agrees with mgmt statement that it needs to spend more on marketing amid greater competition (Murphy notes that ELF spends 3% of sales vs. peers in the 20%+), the analyst thinks it's "a little too late--at least to effect near-term sales stabilization"
P&L is moving in the wrong direction: sales moving negative & spending moving higher
JEFFERIES (Stephanie Wissink)
Cuts to hold from buy, PT to $13 from $18; sales fall off seems "more systemic than previously assumed"
2Q profit advancement will reverse in 2H as brand investment is stepping up and guide assumes "a big 4Q sales recovery"
Wissink says she had "discounted signals from tracked data believing that ELF's growth potential in new specialty and international markets would be enough to sustain" mid-single digit growth; but "weight of mega mass retail partners and the crowding of the beauty marketplace has challenged ELF's tactical advantages - enthusiast relevance, speed, innovation, and productivity"
DA DAVIDSON (Linda Bolton Weiser)
Downgrades to neutral from buy, halves PT to $12.25 from $23 amid likely market share loss
Although ELF announced several new retail customers, including Rite Aid, Weiser is concerned that point-of-sales trends could jeopardize shelf space with existing retailers
ELF provided no guidance on how much its 3% advertising ratio needs to increase over long-term
Also thinks "mass cosmetics could continue to be under pressure from consumer trade-up to prestige brands"
Continues to view ELF as a take-out candidate (at a valuation of 3.5x sales, which is
$1b or $18/share), but "probability gets lower the longer market share loss continues"
Notes that ELF had guided to a 3-year sales and Ebitda CAGR (through 2019) of 10%-15%
MORGAN STANLEY (Dara Mohsenian)
Fundamental pressure is building, with an expected double-digit percentage sales decline in tracked channels in 2H, while greater brand reinvestment/tariff risk creates margin risk; rates underweight, PT to $9 from $15

Unclear how much brand support can be funded by internal cost savings initiatives and majority of ELF products are sourced from China

ELF's guidance for low-single digit growth in 2018 and call out for 2019 to be "low growth" year are "material" disappointments vs. consensus expectations
Downside is being driven by "material weakness" in tracked channels (largely Walmart and Target at ~54% of sales), which are expected to decline ~10% on average in 2H driven by "confluence of assortment missteps, intensifying competition (new entrants), and weak category growth," Mohsenian says
While hard to assess ELF's underlying sales trends given "pipeline fill creates noisy sell-in results," the rate and magnitude of slowed growth trajectory is surprising
SUNTRUST (William Chappell)
Glad ELF is "finally taking action and are hopeful that these results mark the bottom of investor sentiment," although actions are "6 months too late"
Also pleased that ELF "finally" gave "a more realistic sales outlook" to Street; thinks gap between scanner data and co.'s prior forecast created overhang on stock
Chappell believes the biggest issue is "insufficient marketing for the amount of shelf space gains the company received in the past 18 months"
Maintains buy but understand investors will need more visibility into ELF's stabilization actions before shares can move "meaningfully higher"; PT to $18 from $20
ELF avg. absolute change after prior 7 earnings 5.3%: Bloomberg data
ELF has 3 buys, 7 holds, 3 sells, avg PT $14 (vs $19 a week ago): Bloomberg data
Short interest 14% of shares outstanding, 52-week high 23% in Oct., low 9.8% in May: Markit data
ELF -33% YTD through Aug. 8 close vs SPX +6.9%, EL +4.6%, REV -27%