Denmark Has a Rotten Week of Criminal Probes and Profit Warnings
(Bloomberg) -- It has been a rotten week for Denmark Inc.
It started on Monday afternoon, with the launch of a new criminal probe against the nation's biggest lender, Danske Bank A/S, for allegedly laundering as much as $9 billion in dirty cash. Soon after there was a profit warning from high-flyer Pandora A/S, the world's biggest maker of jewelry.
As Pandora's warning sent its share in a free-fall the following day (and its CEO packing by Thursday), shipping giant A.P. Moller Maersk A/S decided to get in on the act with its own cut to its profit outlook. By then, traders were inured, sending the shares of the world's biggest shipping company higher on the view that things could have been much worse.
More was to come on Wednesday, when pharmaceutical giants Novo Nordisk A/S and H. Lundbeck A/S both reported earnings. Novo's shares dropped more than 5 percent on concerns of a weaker insulin market and U.S. President Donald Trump's call for cheaper drug prices. Lundbeck stumbled, dropping as much as 11 percent, after it warned that competition from generic treatments would hit sales. The misery for Denmark's health care sector continued with shares in Coloplast A/S, an ostomy-bag maker controlled by Denmark's new richest man, falling as much as 5.9 percent owing to weaker-than-expected profit margins in the third-quarter.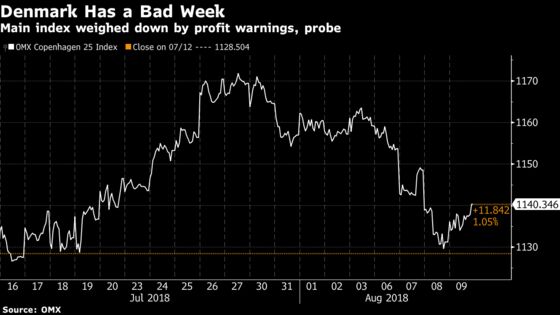 Wednesday's carnage was completed by FLSmidth A/S, a machinery supplier to the cement and minerals industry, which missed analyst estimates for second-quarter earnings before interest, taxes, depreciation.
There was little good news on the equities' side from Norden A/S, a shipping company, which cut its fully year outlook due to a weak tanker spot market. Genmab A/S, a biotech company, then saw its shares drop on Thursday despite maintaining its revenue outlook. Novozymes A/S, which produces industrial enzymes, completed the rotten week with a 4.9 percent drop in shares after missing its EBIT estimates.
Adding to the kingdom's woes, the country's reputation for tolerance and efficiency was tarnished by international media reports about its "Burka Ban" (joining the likes of France, Belgium and Austria in making it illegal to wear the face veil in public), and by Fitch Solutions cutting the country's growth estimates owing to global trade tensions.
According to Otto Friedrichsen, head of equities at asset manager Formuepleje, "we're seeing a rising trend where Danish companies are punished very hard if they fail to deliver." Friedrichsen, whose Aarhus, Denmark-based company manages about $11 billion in assets on behalf of its clients, noted that investors' responses are "asymmetric, in the sense that they aren't rewarded proportionally when they beat expectations."
The problem seems to be one of valuations.
"Many of the Danish shares that have suffered this week are stocks that have done very well in recent years and have reached very high multiples," Friedrichsen said.
It's a view that's shared by Tue Ostergaard, head of sales at ABG Sundal Collier.
"This market has been extremely focused on growth" and "valuations are sky high," Ostergaard said. "That has to be taken into consideration when talking about a tough week."
If Danes need a scapegoat, they might point to Trump. His battles against global trade and expensive drugs have directly impacted two of the companies that dominate the Nasdaq Copenhagen OMXC25 index, Maersk and Novo. Maersk has had a winning week so far, but is down 14 percent this year.
The index was down more than 2 percent by Friday morning from Monday's opening bell, on pace for the worst weekly decline since the end of June.