China's Tariff on American Propane Exports Misses the Mark
(Bloomberg) -- A 25 percent tariff on China's imports of American liquefied propane gas probably won't change the picture for U.S. exporters much.
U.S. spot LPG cargoes to China could fall, but the bulk of exports to the Middle Kingdom are locked into long-term contracts with companies such as China Petroleum and Chemical Corp., which include multi-million dollar penalty fees for breaking the agreements. It's more likely that Chinese firms will honor their contracts but resell the LPG cargoes to other buyers to avoid paying the 25 percent tax.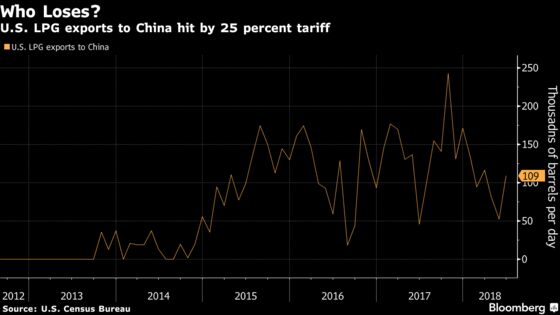 China can source its LPG from the Middle East, even as it resells U.S. cargoes to other countries. The country was already reducing its imports of U.S. LPG, partially because of the less advantageous price spreads but also because tariffs have been on the radar since spring. Propane at the U.S. trading hub in Mont Belvieu, Texas, fell 3.25 cents to 95.25 cents a gallon Wednesday, data compiled by Bloomberg show.
"Everyone expected LPGs to be hit with tariffs," said Bloomberg NEF analyst Daniel McLaughlin. "I suspect cargoes will be diverted to other Asian nations -- Japan, Korea."
America's largest LPG exporter, Enterprise Products Partners LP, doesn't seem fazed. In a second-quarter earnings call last week, the company predicted that the U.S. will need more LPG export capacity, and is even considering building an offshore port to facilitate more traffic.
"If we're able to pull off an offshore port, that gives us the opportunity to put more LPG through our Ship Channel facility," Chief Financial Officer Bryan Bulawa said on the Aug. 1 conference call.
Most likely scenario: LPG prices will likely go up everywhere. The Chinese are "going to need to look elsewhere for supply and that's going to push up prices, which will ultimately impact prices globally," BNEF analyst Bert Gilbert said.