Booking Holdings Tumbles After Weak Third-Quarter Forecast
(Bloomberg) -- Booking Holdings Inc. tumbled the most in nine months after the online travel giant said third-quarter earnings would be well below analysts' average estimate.
The shares dropped as much as 7 percent to $1,901. Norwalk, Connecticut-based Booking said profit excluding some costs in the current period would be between $36.70 and $37.70, compared with Wall Street's estimate for $39.80.
The third quarter encompasses the bulk of the busy summer travel season and is usually the high-point of the year for travel companies like Booking and Expedia Group Inc. It was the second consecutive quarter Booking forecast a disappointing outlook, even though results in the three months ending June 30 beat analysts' average projections. In the second quarter, adjusted profit was $20.67 a share, surpassing estimates for $17.37.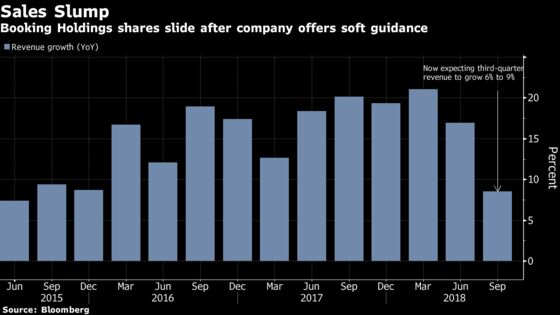 Booking, which changed its name from Priceline Group earlier this year, has been working to increase visibility of its namesake website in the U.S., a market traditionally dominated by Expedia. Over the last year, Booking has shifted marketing spending to TV ads from online, a process the company has said will take time but will ultimately be positive.
"We believe we are on the right track," Chief Executive Officer Glenn Fogel said on a conference call. "We have the right mix of profit and growth."
In the second quarter, the amount of money spent on TV and other brand advertising also fell compared with the same time last year, showing the company is inching back from all advertising in general.
Booking and Expedia are essentially giant advertising machines, working to bring as many people to their platforms in the most efficient way possible. But as Alphabet Inc.'s Google steps up its own travel-booking business, and hotels try to get more people to book directly, it's become harder for online travel agencies to follow their usual playbook.
At the same time, Booking has also increased spending in China. Earlier this month it said it would invest $500 million in Chinese car-hailing giant Didi Chuxing as part of a global alliance that will blend room reservations and rides on demand for their customers.