Bezos and Cook Matter Most. Musk Is Just the Sideshow: Taking Stock
(Bloomberg) -- S&P futures are nudging a couple handles higher in quieter action than what's going on in some overseas markets like Europe (Stoxx 600 whipping around, initially off lows some help from an Adidas beat), China (Shanghai Composite closing up nearly 2% and continuing its $100 billion-a-day fluctuations) and Russian stocks showing volatility in reaction to the latest round of sanctions.
A Reuters story talking about how the growing trade war dispute is "causing rifts" and "rare cracks" within China's ruling Communist Party is getting some attention, but doesn't appear to be making waves in the form of any market reaction.
The S&P cash index is poised to open just 16 points away from the January record of 2,873 and the bulls are getting giddy. Take Wall Street's biggest bull, Canaccord Genuity's Tony Dwyer, who is taking the latest string of gains as an opportunity to double down on his call for 3,200 by year end, which implies ~12% upside from here. Meanwhile, the VIX fear gauge is tumbling further below the 11 level (was above 14 at the beginning of last week) and is now at levels not seen in seven months.
And the volatility in single stocks continues, as can be seen in some sizable earnings-related gaps in hedge fund-heavy names like Yelp +16%, Carvana +13%, Roku +12%, and Jack in the Box +7% (all of which have about a quarter of their shares held by hedge funds) in addition to Stamps.com -14% (almost 20% HF ownership), which is getting clobbered on the potential for a renegotiated pact with the U.S. Postal Service, and Rite Aid -14% (~14% HF ownership) on the deal break.
Bezos, Cook and the Tech Streak
While the Musk tweet and the ensuing Tesla saga seem to be all that market participants want to obsess over for the past day and a half, the real story has been how the largest chunk of the market sector-wise has helped propel the tape to near all-time highs.
Tech, which accounts for more than a quarter of the S&P 500, hasn't had one down day yet in August as the space continues to recover from the brief Facebook and Twitter earnings-fueled selloff at the end of July. Some panicked and took profits while others shorted the space thinking that this was the beginning of the end for the nine-year bull market.
The ones who stuck it out or bought on the dip have reaped the benefits, as the S&P 500 Into Tech index has gained 4.3% during this seven-day streak (its longest in five months), which is leagues above the performance of any other sector and more than double the gains for the cash index itself.
This run has seen Tim Cook's Apple smash the $1 trillion milestone, Jeff Bezos' Amazon soar to another record -- now at a market cap of ~$920 billion and leading the pack to be the next to hit a trillion followed by Alphabet at $872b and Microsoft at $840b -- and the SOX break above the top end of its range on strength in semicap equipment major KLA-Tencor and chip megacaps like Nvidia, Qualcomm, and Intel.
And the logical thinking goes that if this market continues to melt upwards towards the record, it'll likely be tech that does the leading, for that's what this sector does whenever the market goes higher, either in the very near term or in the very long term, like over the past nine years.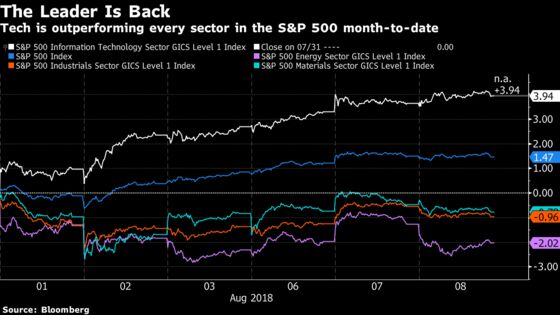 The biggest call this morning comes from Morgan Stanley, who is out downgrading the semiconductors sector to a cautious rating and the semi cap equipment space to an in-line. On the former, analyst Joseph Moore cites growing cyclical risk ("any lead time adjustment or demand slowdown could drive a meaningful correction") and says risk/reward is the poorest its been in three years; Moore slashes On Semi to an underweight, upgrades Amphenol, and says he is more cautious on Microchip and leaning more negative on Micron. On the semicaps, he sees the group rangebound from here and removes the overweight rating on Applied Materials in favor of Lam Research.
Elsewhere in tech land, Goldman cut Seagate Tech to a sell on the thesis that fundamentals are peaking this year and will decline in calendar year 2019: "We believe that HDD fundamentals will be pressured in the intermediate term by NAND oversupply, with SSD pricing already down as much as 30-40% from the peak, and NAND prices could continue to fall materially in 2HCY18 according to our industry discussions."
Barclays initiates Zynga with an underweight and a Street-low price target $3.70 on slight risk to 2019-20 Street Ebitda estimates as the company simultaneously invests in new and existing games.
BofAML double downgrades trucker Schneider National to underperform and cuts rail name Genesee & Wyoming, both on valuation.
Tick-by-Tick Guide to Today's Actionable Events
7:00am -- VIAB, WIN, WP, NCLH, PRTY, PLUG earnings
7:30am -- CCE earnings
8:00am -- LNG earnings
8:30am -- PPI, Initial Jobless Claims
8:30am -- VIAB earnings call
8:30am -- AMTD monthly sales
9:23am -- PGA Round 1: Tiger tees off alongside Rory and Justin Thomas
9:45am -- Bloomberg Consumer Comfort
10:00am -- Wholesale Inventories
10:00am -- APRN at Canaccord Genuity Growth Conference
10:30am -- EIA natgas storage
10:30am -- U.S. Postal Service FY18 results
10:30am -- GRUB at Canaccord Genuity Growth Conference
11:00am -- Samsung Unpacked event and Galaxy Note 9 launch
11:00am -- WMB vote on merger with WPZ
11:15am -- VP Pence speech on Trump's Space Force
1:00pm -- CAT at Jefferies Global Industrials Conference
1:20pm -- LYB CEO Bob Patel on Bloomberg TV
1:40pm -- GOOS CEO Dani Reiss on Bloomberg TV
2:30pm -- PRTY CEO James Harrison Jr on Bloomberg TV
3:00pm -- IFF CEO Andreas Fibig on Bloomberg TV
4:00pm -- AVLR earnings (timing unknown, first report since IPO)
4:01pm -- AL, TTD earnings
4:05pm -- DBX (roughly), ACXM, PCTY, OSTK, TRUE, PLNT, LGF/B earnings
4:10pm -- NWSA, OLED, FNKO earnings
4:15pm -- SYNA, MCHP, ECOM earnings
5:00pm -- DBX, NWSA, LGF/B earnings call