As California Burns, Smoke Blankets U.S. From Pacific to Rockies
(Bloomberg) -- Smoke from wildfires in California and the U.S. West is now clouding skies across about half of the country, from the Pacific to the Rocky Mountains.
NASA satellite images captured the reach of the smoke, underscoring the fallout from a disaster that triggered thousands of evacuations in California alone. Smoke alerts have even been posted for Calgary and Saskatchewan, Environment Canada's website shows.
The mix of gases and fine particles from burning trees, plants and people's homes can irritate eyes and the respiratory system. It's especially dangerous for those with heart and lung diseases, particularly children, the U.S. Centers for Disease Control and Prevention warns. More than 100 fires are currently burning and have consumed about 1.7 million acres in 15 states, mostly in the West, as of Thursday, according to the U.S. National Interagency Fire Center in Boise, Idaho.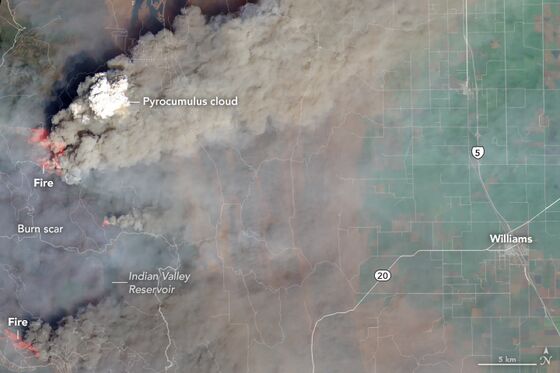 That means there's a lot of smoke -- and it doesn't look like it's going to dissipate anytime soon. A dome of high pressure causing temperatures to soar across the West will trap most of it, potentially ruining air quality, said Steven DiMartino, a meteorologist with Weather Concierge. And soot -- another byproduct of the flames that can enter lungs and the bloodstream -- is causing more pollution in California than cars and industry.

Air-quality alerts have been posted for California, where more than 620,000 acres have been covered by blazes, and parts of Oregon, where 12 fires are currently burning almost 187,000 acres, National Interagency Fire Center data show. But the haze appears to be holding mostly west of the Mississippi for now.
"I don't think it will be able to bleed this way," DiMartino said from his office in Freehold, New Jersey.