Argentina Senate Rejects Abortion Bill Following Heated Debate
(Bloomberg) -- After months of heated debate, Argentine senators voted down a bill Thursday that would have legalized abortion, defying local advocates, international groups and a recent trend of predominantly Catholic nations seeking to make abortions more accessible.
Senators voted 38 against the bill versus 31 in favor. The bill narrowly passed through Argentina's lower house in June and President Mauricio Macri said he wouldn't veto it if it reached his desk. But the relatively conservative Senate denied that possibility.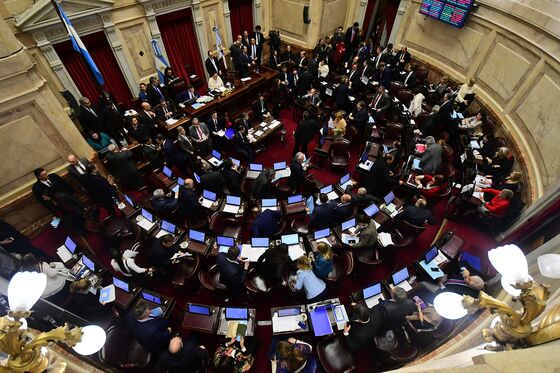 Argentines on both sides of the cause packed the plaza in front of Congress on a cold, rainy winter night in Buenos Aires. Police separated both sides with barricades. The vote ended at around 2:45 a.m.
On one side plaza stood 24-year-old Veronica Del Vasto, dressed in green, the color representing the pro-abortion movement. She said her mother had to do a clandestine abortion years ago when her infant died in the womb after seven months due to an infection.
Knowing the likely outcome, Del Vasto didn't feel defeated, saying she was confident abortion would become law in the next couple of years.
"We can't keep waiting," said Del Vasto before the vote. "It isn't just a law. We're asking for just as much equality and opportunity for women as men have."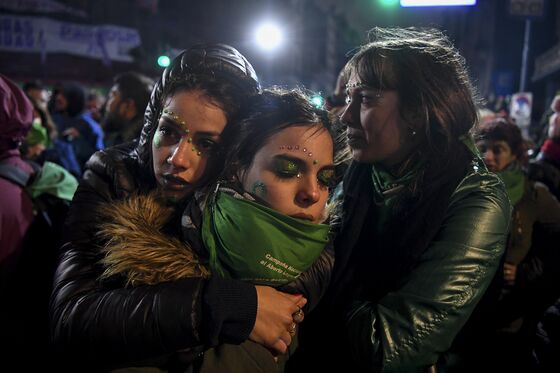 On the other side of the plaza was 60-year-old Marta Vacara, who called the Senate's vote against the bill a blessing. Vacara, a self-described devout Catholic, took the bus into Buenos Aires and then walked 30 blocks to participate in the march.
Abortion "is a crime," said Vacara, dressed in blue, the color of the pro-life movement. "I believe that in Argentina, there are still a lot of people who believe in God, who believe in life."
The bill would have made abortion legal in the first 14 weeks of pregnancy.
Emotions were running high Wednesday evening after Liliana Herrera, a 22-year-old woman and mother of two, died last week after a clandestine abortion. Her story went viral on social media ahead of the vote.
Amnesty International collected more than 100,000 online signatures from around the globe urging Argentine senators to pass the bill. It also took out an ad Wednesday in the New York Times' international edition. About 60 Irish lawmakers, who legalized abortion in May, sent a letter to their Argentine counterparts pleading them to take the same action.
The vote also defies recent pro-abortion actions in South America, a region where the Catholic Church remains popular. Last year, Chile made it easier for women to access legal abortions under certain circumstances. Last week, Brazil's Supreme Court held a special session to consider loosening restrictions on abortion.