Hedge Funds Are Shorting Australian Retailers as Home Prices Fall
(Bloomberg) -- Hedge funds have found a new way to profit from the sorry state of Australia's housing market: playing off how much poorer consumers feel as their home values decline.
Managers including Totus Capital and Sydney's Regal Funds Management are heaping bearish wagers on companies from JB Hi-Fi Ltd. to Harvey Norman Holdings Ltd., betting discretionary retail stocks will wobble as the country's decades-long property boom goes into reverse and people shop less.
It's a twist to the infamous "widow maker" trade, where hedge funds took large losses over the past few years betting against Australian banks after prematurely predicting house prices would crash. This time, the theory is that rather than default on their mortgages, homeowners stung by 10 straight months of nationwide price declines will curtail spending -- what economists refer to as the wealth effect.
"We're short a basket of stocks correlated to discretionary spending," said Tim Hannon, the chief investment officer of Melbourne-based Newgate Capital Partners. "We're positioned like this because it will be discretionary spending that consumers will cut in order to replenish the wealth perceived to be lost due to house price falls."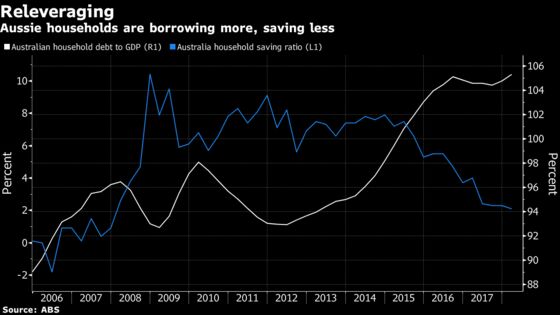 To be sure, Australian consumer confidence and spending isn't falling off a cliff. But rising bets against retailers suggest investors predict it's just a matter of time before homeowners hit the brakes.
Short interest in JB Hi-Fi touched a one-year high of more than 18 percent of freely tradeable shares in July, IHS Markit data show, while the ratio for Harvey Norman is about 23 percent, the highest since March.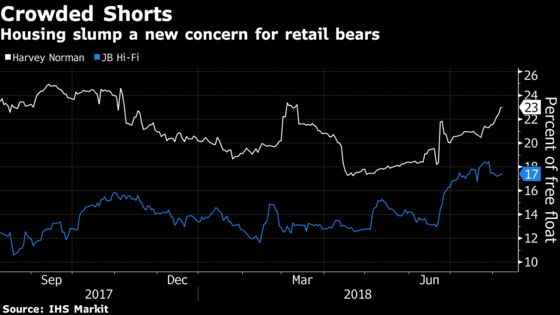 For Totus Capital, which oversees A$200 million ($148 million), housing-related shorts across retail, building materials and financial services stocks now amount to 15 percent of the firm's net assets, according to Sydney-based fund manager Ben McGarry. It's also betting against Wesfarmers Ltd., which owns Bunnings, a chain of home improvement stores, and Boral Ltd., a construction-materials supplier.
Should the current earnings season provide further evidence of a slowdown, Totus, which has doubled its housing-related shorts over the past seven to nine weeks, has the capacity to expand its bearish bets.
"If the outlook is cautious because of the slowdown in housing, we've certainly got room to move that short position up," McGarry said. "As we see more and more of these red flags pile on top of one another, our conviction is growing that we're on the right track."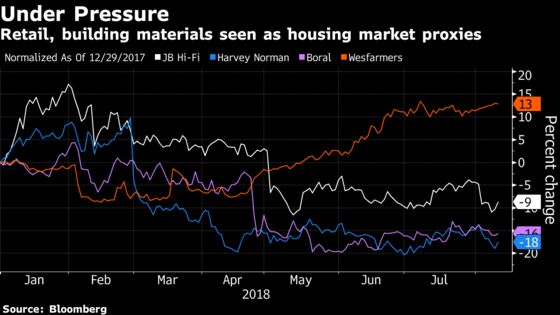 Regal Funds Management has meanwhile added Boral and online property listings company REA Group Ltd. to its short picks, Chief Investment Officer Philip King said. Regal has been betting against JB Hi-Fi for about a year, during which time the retailer's stock has dropped 12 percent.
Softening home prices are a double whammy for Australia's retailers already suffering in the face of online competition from the likes of Amazon.com Inc., which launched its popular Prime free-delivery program in June, just six months after entering the country.
Banks, meanwhile, aren't in most hedge funds' crosshairs yet. They'll feel the pain later when broader loan impairment charges rise, according to Newgate's Hannon. Newgate is wagering on share declines across a basket of discretionary spending companies and residential developers, Hannon said, without identifying them.
Illustrating how hedge funds are focusing on economic fallout rather than on mortgage defaults, Watermark Funds Management is long Commonwealth Bank of Australia, whose boom years were built on mortgage lending growth. It has a short position in Australia & New Zealand Banking Group Ltd., which relies more heavily on corporate lending.
"When people reduce consumption, many discretionary sectors of the economy that borrow from banks, such as retailers, commercial real estate and tourism struggle and generate bank loan losses," said Hamish Chalmers, an analyst at Watermark.
Regal's King said he doesn't see bank stocks falling much further after the government-appointed inquiry into financial services misconduct dented many.