The Big Problem With Investing in Amsterdam's Hot Housing Market
(Bloomberg) -- Amsterdam's screaming housing shortage should have made it the best place for Vesteda, the largest private investor in Dutch residential property, to put money. But it's not.
The reason? The city's new left-wing government's plan to cement stricter housing regulations and cap rents make it virtually impossible for the firm to invest there, said Gertjan van der Baan, Vesteda's chief executive officer.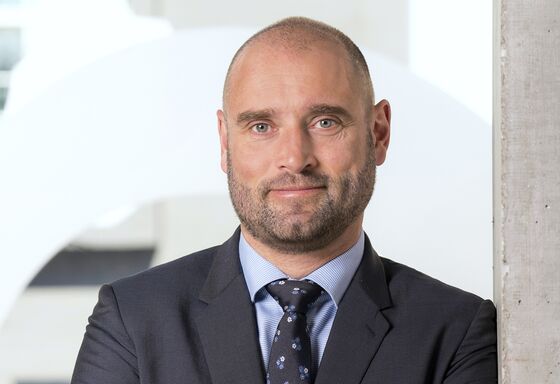 "It's an anomaly -- there's money, there's demand for housing, and there's an appetite from investors like us to invest -- yet in Amsterdam and Utrecht measures by local city governments are preventing us from investing in new projects," Van der Baan, 50, said in an interview at Vesteda's main office in the southern part of Amsterdam.
Vesteda wants to invest in building new rental houses in places where demand is the highest, which puts Amsterdam among the top cities on its list. There's also investor demand from outside the country. In a recent survey conducted by real estate adviser CBRE, Amsterdam was among the top three most popular European cities where international investors want to put their money in the short term.
But the newly installed city government's plans are driving investors like Van der Baan away. The political alliance in Amsterdam between the Greens, the centrist D66 party, and the Labor and Socialist parties plans 7,500 new houses a year, but a third will be earmarked as social housing for low-income households and will not be available for private investors.
At the moment the share of social housing in the city is more than 50 percent and the local government will actively monitor this to make sure it doesn't drop below 45 percent in certain neighborhoods. At the same time, the city is seeking to limit the rent that can be charged for some newly built apartments, much to Van der Baan's disbelief.
"The owner of a house in the private sector should be able to ask the market price, whether he sells it or rents it out," he said.
With the local government asking the maximum price when selling its land, based on current house prices, which have risen steeply in the last years, Vesteda won't be able to make its already moderate return of 4 percent to 5 percent if rental prices are capped, he said.
Vesteda -- with a portfolio of 7 billion euros ($8.2 billion), including homes under construction -- invests money from pension funds, like the country's largest, ABP. The firm could attract about 1 billion euros to 2 billion euros in extra equity but simply can't put this money to work under current conditions, according to Van der Baan. Between domestic and foreign investors, he estimates that the unused investment potential may be about 10 billion euros.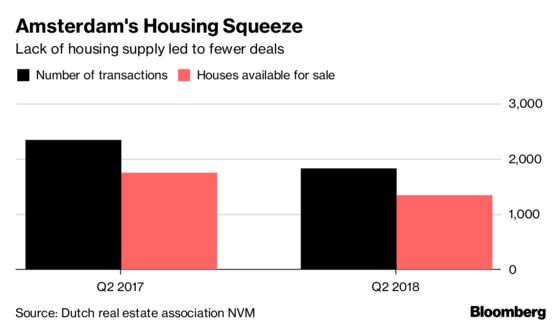 Housing prices have surged in Amsterdam and increasingly also elsewhere in the Netherlands, triggered by a combination of a growing economy, low interest rates and a shortage of new homes. That has prompted officials to put access to cheap housing high on local political agendas. In Amsterdam, with a long history of left-leaning parties in power, a four-party coalition government took the helm in May with a pledge for a big increase in affordable housing.
"With this kind of scarcity, a city should not regulate but stimulate new supply," Van der Baan said. While he understands the municipality has the right to demand the type of houses it wants constructed on plots of land it owns, setting rules for property on privately owned land that is sold means scaring away investors, he said.
Laurens Ivens, the city government official responsible for housing, is aware of comments from developers and investors on the topic, a spokeswoman for the office said by e-mail. "Of course we keep an eye on the situation, but for the time being there are enough parties that want to build in Amsterdam."
Vesteda -- whose newest residential projects include Amsterdam's Amstel Tower near Royal Philips NV headquarters -- may be forced to return cash to shareholders instead of re-investing it. That would be "a missed opportunity, and in a way it would show we have failed in our mission," Van der Baan said.
For now, the lack of building opportunities has forced Vesteda, whose portfolio owns 27,000 residential units, to be creative in picking investments. In June, Van der Baan and his team bought a 1.5 billion-euro real estate portfolio from NN Group NV, of which 75 percent in stock and the rest in cash.
It's a deal that worked out for both parties, according to Van der Baan, as NN wanted to downsize their direct real estate investments without losing their exposure and Vesteda had the funds to expand its portfolio.
"But to be honest, we took over an existing portfolio," he says. "We prefer to build new homes."