Tech Stocks Join Tesla in Burning Bears With Short Bets Backfiring
(Bloomberg) -- If you think Tesla Inc.'s rally Tuesday was painful for equity bears, take a look at some of the most-shorted technology stocks.
About 27 percent of 3D Systems Corp.'s shares available for trading were sold short as of Tuesday, four times the average for companies in the Russell 2000 Index, according to the latest data available from IHS Markit. The stock soared as much as 38 percent Wednesday, the most in seven years. Match Group Inc. and Alarm.com Holdings Inc. each rallied more than 17 percent, with bearish bets amounting to about one-fifth of their free float.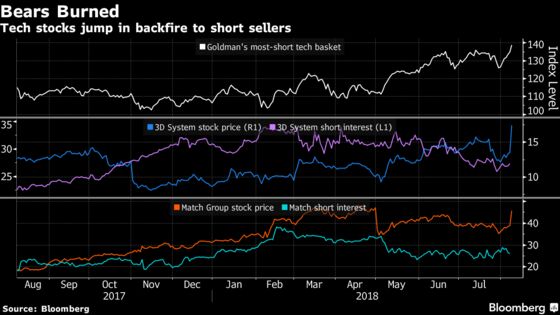 Tesla's 11 percent surge equated to a potential $800 million of losses for short sellers. While the individual stocks' market values pale in comparison to Tesla's, the tech bears are feeling a similar sting considering the breadth of the wrong-way bets across the industry. Among the 20 most-shorted tech stocks tracked by Goldman Sachs, eight rose more than 1 percent Wednesday, while the broad market was flat. Only four fell 1 percent or more.
The group was up 3.3 percent at 2:13 p.m. in New York, the most since April. It has risen for seven days in a row, the longest streak of gains that bears have endured in three months.
It hasn't been all bad news for the bears. Snap Inc., about a quarter of which was sold short, fell as much as 8.2 percent after its earnings report revealed that daily active users declined sequentially for the first time in the second quarter.
For some, the rally was fueled by earnings. 3D Systems and Alarm.com posted quarterly results that topped analysts, and Match Group beat back the bears with its Tinder online dating platform helping drive better-than expected profit. For others, the renewed interest in tech stocks may have forced short sellers to buy the stocks back to cover their positions.
Applied Optoelectronics Inc., which makes optical components used in data centers, gained as much as 24 percent on Wednesday after reporting second-quarter earnings and revenue that exceeded the highest analyst estimates. About 41 percent of shares available to trade were sold short.