Russian Ruble Leads World Currency Losses on New U.S. Sanctions
(Bloomberg) -- The ruble led world currency losses and Russian bonds slumped with stocks after the U.S. announced new sanctions over the nation's use of chemical weapons, heightening concern about further penalties.
The currency sank to the lowest since November 2016 after the U.S. sanctioned Russia over a nerve-agent attack in the U.K. It extended a decline that began earlier Wednesday after Russian media published the full text of a separate bill in Washington seeking "crushing sanctions" for election meddling.
"Sanctions will remain a risk, so we have had a cautious stance particularly in the corporate space," said Shamaila Khan, who holds Russian bonds as a director of emerging-market debt at AllianceBernstein in New York. "Sanctioning sovereign debt will be a last resort and corporate debt and individuals are a more likely target."
The State Department said the sanctions tied to the use of chemical weapons are expected to take effect around August 22. A second round of sanctions will be imposed later unless Russia meets conditions including providing assurances it will no longer use chemical or biological weapons and will allow on-site inspections to verify it has stopped doing so, according to a State Department official who briefed reporters on condition of anonymity.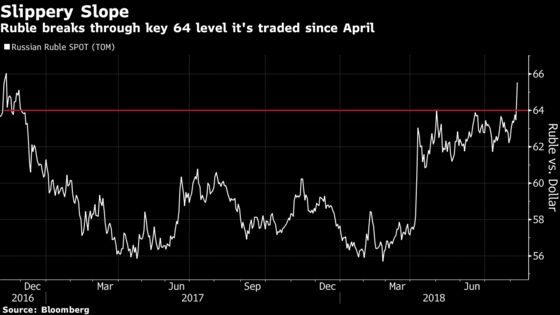 Earlier, Russia's Kommersant newspaper posted the draft introduced last week by a bipartisan group of legislators. The bill includes proposals to sanction new sovereign debt and block dollar transactions of the nation's biggest lenders. The bill includes proposals to sanction new sovereign debt and block dollar transactions of the nation's biggest lenders.
"The Kommersant publication was the straw that broke the camel's back," said Denis Davydov, an analyst at Nordea Bank in Moscow. "It's important to be able to read and assess the actual bill."
No action will be taken on the draft until the House is back from summer recess in September, leaving room for more market jitters through the end of the month. But with President Donald Trump calling for closer ties with Russia, and the U.S. Treasury warning earlier this year against sanctioning the sovereign debt market, it's uncertain the bill will make it into law.
Traders are particularly concerned by a clause that calls for prohibiting "all transactions in all property and interests in property" of some of the country's largest lenders. Sberbank, VTB Bank, Gazprombank, Promsvyazbank, Rosselkhozbank and Vnesheconombank are listed. The draft also includes Bank of Moscow, which was merged into VTB in 2016, while Vnesheconombank is listed twice in the text, without explanation.
"If you start crushing Russia by causing the banking system to collapse as a result of sanctions, it could actually lead to worse political outcomes than what you have right now," Khan said. "The key rule of sanctions is that you want to keep some in reserve because if you use your worst sanctions then what do you follow it up with?"
The bill also seeks penalties on energy projects and a survey of President Vladimir Putin's net worth. It follows reports of Russia's ongoing efforts to sway U.S. elections, new efforts to hack U.S. senators, and intelligence agencies' conclusion that Russia sought to meddle in the 2016 presidential election.
Lawmakers from both parties have also been sharply critical of President Donald Trump's meeting with Putin in Helsinki last month, saying Trump hasn't done enough to hold Russia accountable.
Investors learned their lesson not to take the threat of U.S. sanctions lightly after penalties introduced in April against a raft of billionaires and their assets sent markets into a nosedive. The Treasury has softened its position since then by outlining a path to lift curbs on companies controlled by Russian billionaire Oleg Deripaska.
The Russian government only managed to sell half the amount planned in a bond auction on Wednesday as borrowing costs jumped to the highest level in more than a year.
"If the bill becomes law and Russia replies, the ruble would be hit even harder through deteriorating sentiment and a selloff of Russian assets," said Vladimir Miklashevsky, a strategist at Danske Bank A/S in Helsinki.
The Russian ruble declined 3.1 percent to 65.55 per dollar, the 10-year local-bond yield advanced 20 basis points to 8.09 percent, and the MOEX Russia Index dipped 0.8 percent.
Here's what other analysts and investors are saying:
Peter Cecchini, global chief market strategist at Cantor Fitzgerald in New York:
"It was a double whammy today with both oil and sanctions," he said. "Russia continues to become more and more isolated and the ruble will continue to weaken. Capital flight will accelerate. That's generally negative for asset prices"
Russia's benchmark stock index has "5 to 10 percent downside from here"
Michael Roche, a strategist at Seaport Global Holdings in New York:
"The sanctions are useful to the president domestically, in the need to demonstrate that he is not 'soft' on President Putin and as part of the effort to punish Russia for intrusion into the internal affairs of the U.S. and its allies"
"The sanctions come at an unfortunate time for EM given stress in Argentina, China, Turkey and now Russia. So investors who are looking at the higher yields or lower equity or cheaper currency will still remain on the sidelines because of these geo-political matters"
Greg Lesko, a money manager at Deltec Asset Management in New York:
The sanctions are "extremely harsh"
"Congress is unlikely to pass anything before the recess. If anything close to what we heard goes through, the ruble will probably go lower. It's just hard to know"