Orix Buys Stake in Jet-Lessor Avolon as HNA Extends Asset Sale
(Bloomberg) -- Orix Corp. agreed to buy a stake in aircraft lessor Avolon Holdings Ltd. from China's HNA Group Co. for $2.21 billion in one of the Japanese financial firm's largest-ever deals.
Through its aviation-leasing unit, Orix will get a 30 percent stake in Avolon from HNA's Bohai Capital Holding Co. unit, the Tokyo-based company said in a statement on Wednesday. HNA is unwinding deals that had made it one of China's most aggressive acquirers of foreign businesses.
While the lessors will continue to operate independently, Orix said it expects to tap Avolon's ability to buy large numbers of aircraft direct from manufacturers. Dublin-based Avolon is the world's third-biggest plane-leasing company by fleet size and Orix is 12th largest, according to FlightGlobal.
The leasing sector is expanding with global aircraft demand set to almost double over the next 20 years, according to Boeing Co. projections. Asia has been leading the way, with other Japanese firms including Sumitomo Mitsui Financial Group Inc. also looking to take advantage of the travel boom to expand their aviation arms.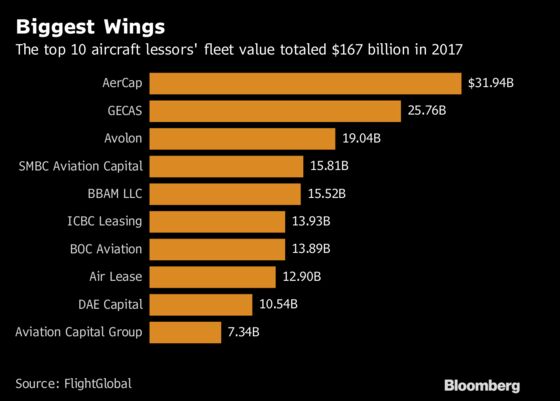 Avolon Chief Executive Officer Domhnal Slattery told Bloomberg TV that the companies' leasing portfolios are largely complementary, with his own firm a major buyer of new Boeing and Airbus SE jetliners whereas Orix specializes in managing older, mid-life planes.
The CEO said he views the new 70:30 ownership split as a "stable long-term shareholding mix," and that HNA still regards Avolon and the aviation industry as a core strategic focus.
Orix said the transaction should be completed in November following approvals. It hasn't made a purchase of a similar size since buying Dutch asset-manager Robeco from Rabobank Groep for 1.94 billion euros ($2.3 billion) in 2013.
The firm will appoint two directors to Avolon's board, said Kei Kitagawa, who heads its aviation and investment group. While the purchase involves a minority stake, Avolon will be run effectively as an equal partnership thanks to an agreement giving Orix veto rights over major decisions, he added.
That veto power includes any use of Avolon's cash, from dividends to budgets, Slattery said. The deal was designed to resolve credit-ratings services' concerns about the long-term stability of Avolon's parent company, he said. Without it, Avolon stood little chance of gaining an investment-grade rating regardless of its underlying business.
"We've got a great, long-term strategic shareholder that has a similar view of the industry that we do," Slattery said by phone. "They see the value in the sector, they see the long-term value in this business."
For HNA, the transaction is the latest in a series of large asset sales that had already topped $17 billion as it reverses a multiyear acquisition spree to bring its debt load under control.
Companies controlled by the families of Hong Kong billionaires Li Ka-shing and Henry Cheng had also been interested in buying a stake in Avolon or some of its aircraft, people with knowledge of the matter said last week.
Bohai acquired Avolon in 2016, then tripled the aircraft trader's size by buying CIT Group Inc.'s plane-leasing business for more than $10 billion a year later. Since then, Avolon has been divesting non-core assets, including a portfolio of about 100 aircraft that it gained from CIT.
Avolon has no immediate concerns about the trade spat between the U.S. and China, since the company has orders for more than 300 aircraft orders worth in excess of $20 billion that mean it's "in good shape" through 2022 or so.
"If it goes on for multiple years it becomes an issue but hopefully sense will prevail in due course," he said.