New York Times Tumbles on Slowdown in Digital-Subscriber Growth
(Bloomberg) -- The New York Times tumbled by the most in almost four years as a continued slowdown in online-only subscribers fueled concern that even top newspapers are struggling to navigate the increasingly digital world.
About 109,000 new users signed up for digital subscriptions in the second quarter, the newspaper said in a statement Wednesday. That's down from 139,000 in the first quarter and 157,000 in the final quarter of 2017.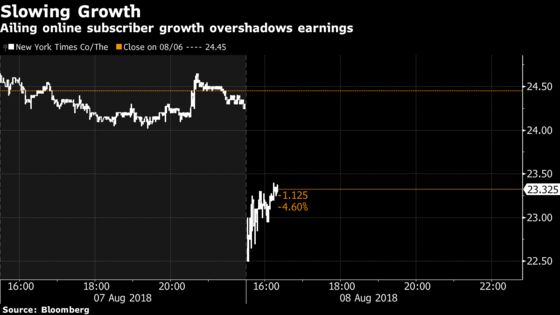 As newspapers across the country struggle amid changing reading habits, the New York Times has been held up as an example of a rare success story. Investors had bet that the Times' digital subscription growth could pick up the slack for falling sales of print papers and declining advertising revenue. Now, concern is increasing that the New York Times may not be able to keep growing that model at a fast clip, overshadowing better-than-expected earnings and revenue in the second quarter.
The stock plunged as much as 7.4 percent Wednesday to $22.50, marking the biggest intraday decline since October 2014. The stock had climbed 31 percent this year through Tuesday's close.