Rep. Chris Collins Accused of Tipping Others to Sell Drug Stock
(Bloomberg) -- A New York congressman and his son were indicted for insider trading related to the shares of an Australian biotechnology firm, federal prosecutors in Manhattan said on Wednesday.
Christopher Collins, a Republican Congressman representing the 27th District of New York, his son Cameron Collins, and Stephen Zarsky, the father of Cameron Collins's fiancée, were charged by federal prosecutors in Manhattan. Prosecutors believe it to be the first insider-trading case against a sitting congressman.
Collins, who was the first House Republican to endorse Donald Trump for president, is accused of tipping off his son about negative results in a clinical trial for a drug being developed by Innate Immunotherapeutics Ltd. to treat a form of multiple sclerosis, according to prosecutors. Collins, one of the company's largest shareholders, served on the board of the company and had access to information that wasn't public.
His son then passed the news to his girlfriend, his girlfriend's mother, Zarsky and a friend, prosecutors said. In the four days before the negative drug news was announced, they and others sold more than 1.78 million Innate shares, avoiding losses of about $768,000, prosecutors said.
"These charges are a reminder that this is a nation of laws, and everyone stands equal before the bar of justice," Geoffrey Berman, U.S. Attorney for the Southern District of New York, said at a news conference. "The charges today demonstrate that once again, no matter what the crime and no matter who committed it, we stand in the pursuit of justice without fear or favor."
Berman declined to comment on whether others will be charged beyond Wednesday's indictment.
Collins, who has previously come under fire for investing in Innate while sitting on a House committee that oversees health-care policy, isn't accused of selling shares based on the negative drug trial.
"We will answer the charges filed against Congressman Collins in Court and will mount a vigorous defense to clear his good name," said Jonathan Barr and Jonathan New, attorneys for Collins. "It is notable that even the government does not allege that Congressman Collins traded a single share of Innate Therapeutics stock. We are confident he will be completely vindicated and exonerated."
Attorneys for Cameron Collins said "we intend to mount a vigorous defense on behalf of our client. We look forward to addressing these charges in court." An attorney for Zarsky declined to comment. Officials at Innate Immunotherapeutics couldn't be located for comment.
Collins, his son and Zarsky pleaded not guilty in a federal court appearance in Manhattan. Prosecutors asked for a $500,000 bond for each man.
House Speaker Paul Ryan removed Collins from the Energy and Commerce Committee and sought an investigation by the House Ethics Committee.
Collins got the news of the drug trial in a June 2017 email from the company's chief executive officer while attending an event on the South Lawn of the White House. "I have bad news to report," the email said. The CEO went on to report that the trial of the company's immunotherapy drug had shown "no clinically meaningful" results compared with a placebo.
"No doubt we will want to consider this extremely bad news," the executive wrote. Collins responded, "Wow. Makes no sense. How are these results even possible?"
Collins then called his son, Cameron, to tell him the results, according to the indictment. "Christopher Collins conveyed this material, nonpublic information to Cameron Collins knowing that it was in breach of his duties to Innate and anticipating that Cameron Collins would use it to trade and tip others," the indictment said.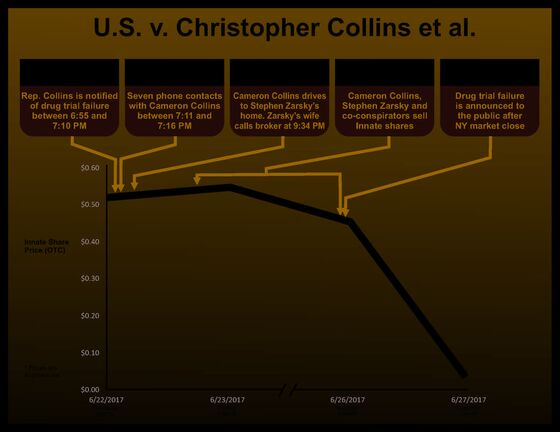 The indictment notes that while the congressman didn't trade himself and lost millions when the stock plunged, he was "virtually precluded" from trading his own shares for a number of reasons, including the fact that he was under investigation by the Office of Congressional Ethics for his investment in the company.
Collins, his son and Zarsky were also sued for insider trading by the U.S. Securities and Exchange Commission, along with Cameron Collins's girlfriend, Lauren Zarsky, and her mother, Dorothy Zarsky. The two women agreed to settle the claims without admitting or denying wrongdoing and agreed to repay their gains and pay fines.
Lauren Zarsky, a certified public accountant, agreed to be suspended from appearing or practicing before the SEC as an accountant, which includes not participating in the financial reporting or audits of public companies.
Innate said in a statement it had cooperated fully with the SEC's requests for information, and stressed it wasn't under investigation. "The company considers the ongoing investigation to be a private matter to Mr. Collins," it said.
Collins's district in Western New York is solidly Republican and voted overwhelmingly for Trump in 2016. Collins took office in 2013 and is running for re-election in November. He faces a challenge from Democrat Nate McMurray, town supervisor in Grand Island.
Former Health and Human Services Secretary Tom Price was grilled during his confirmation hearing on whether he purchased stocks in Innate Immunotherapeutics after receiving a tip from Collins. Price said he never received information that could be considered a stock tip and denied any wrongdoing. The stock price rose as media reported on the men's holdings in the Australian company.
Price isn't named in the indictment of Collins or accused of wrongdoing. A spokesman for Price referred back to his statements regarding the investment during his confirmation hearing in January 2017, in which he said: "Everything I did was ethical, above-board, legal and transparent." The spokesman declined further comment.
Price, who resigned in September 2017 after criticism of his use of private and military planes for travel, accumulated an interest in the company at around 40 cents a share in 2015 and 2016, according to his financial disclosures. By the time he sold the shares in February 2017, they were worth roughly 70 cents each, giving him a profit of more than $150,000, according to ProPublica.
Many of Collins's congressional colleagues also bought shares in Innate, including Representatives Mike Conaway of Texas and Doug Lamborn of Colorado.
The case is U.S. v Collins, 18-cr-567, U.S. District Court, Southern District of New York.