Mylan to Weigh Its Options as North American Sales Plummet
(Bloomberg) -- Generic drug giant Mylan NV said that it would review its options as the company continues to grapple with declining prices for many of its products in the U.S.
Drugmakers like Mylan that produce lower-cost versions of brand-name medicines have been grappling with plummeting prices for the past two years. The company said on Wednesday that its sales fell 22 percent in North America in the second quarter, hurt by lower volumes for products including its EpiPen allergy medication.
Mylan also reined in its guidance for the year, saying that it now expects adjusted earnings per share of $4.55 to $4.90, well short of the $5.25 expected by Wall Street analysts. The company has faced delays in bringing a complex generic version of dry-eye drug Restasis to market -- a critical part of its efforts to overcome the wider industry's pricing woes.
Shares of the drugmaker declined as much as 7.9 percent, the largest drop since October, to $35.50 in New York trading.
As it grapples with what Chief Executive Officer Heather Bresch described as an "ongoing rebasing of the U.S. health-care environment," Mylan said its board is forming a "strategic review committee" to evaluate options for the drugmaker. According to a statement from the board, the stock price is undervalued compared with peers given Mylan's global footprint, which offsets some of the declines in the U.S.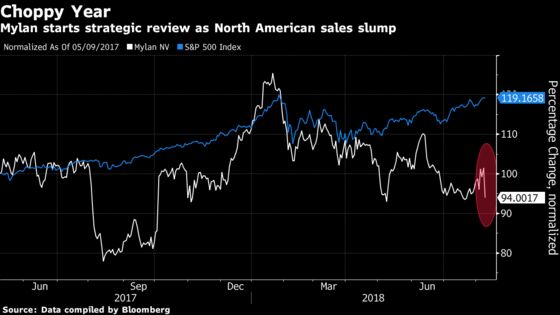 The board didn't give a timetable for the review or specify how far-reaching it would be. Such processes can involve anything from considering small asset sales to putting the entire company on the block.
Mylan's biggest rival, Teva Pharmaceutical Industries Ltd., suffered a sharp decline in U.S. sales in the second quarter as prices continue to fall for copycat drugs. Consolidation among pharmaceutical-industry middlemen and a faster approvals process in the U.S. has driven down the prices of generics, and makers like Mylan have been forced to find other ways to make money.
EpiPen has been a lucrative but challenging product for Mylan, which acquired the drug in 2007 when the list price was around $50 a shot. The company raised the price over the course of nine years to about $600 for a two-pack. Later, in response to criticism over its pricing moves, Mylan later introduced a lower-priced generic version.
In May, U.S. regulators said there were "intermittent supply constraints" of the drug, which could also be weighing on the drug's sales.