Musk's Ambitions Rekindle Celgene Privatization Musings at RBC
(Bloomberg) -- Elon Musk's proposal to take Tesla Inc. private re-ignited one sell-side analyst's thought that biotechnology giant Celgene Corp. may follow suit. Strategists and investors aren't buying it.
RBC Capital Markets analyst Brian Abrahams revisited a concept he floated back in March that a leveraged buyout of the ailing drugmaker would enable it to capture value from its keystone cancer treatment, Revlimid, and take it out from under the microscope that is the public market. However, the lack of share movement and comments from Wall Street in conversations, chats, and social media signaled skepticism.
"It's certainly a stretch to say the least," said Bloomberg Intelligence analyst Asthika Goonewardene, noting he disagrees with the comparison of the two stocks. "This is a big company that has been successful, they just need to put their nose to the grindstone and execute and prove that they're the company they once were."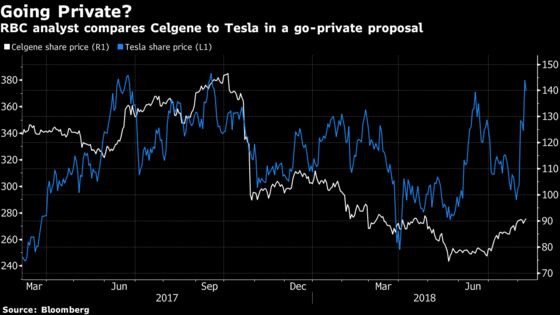 The Celgene proposal took chat rooms and Twitter by storm as day traders and portfolio managers alike weighed in on the research note. Brad Loncar, founder of Loncar Cancer Immunotherapy exchange-traded fund, voiced his opinion on Twitter noting that Musk has a business reason for potential privatization.
"I can understand why Elon Musk at least has a business reason to want to go private," he tweeted, calling Tesla a circus. "Celgene has no business reason. It's just a low stock price in the eyes of some people. Not a compelling argument."
Other investors and sector specialists highlighted a lack of capital to take the company private as well as little need for a leveraged buyout given stabilization of the drugmaker's underlying business and progress across its portfolio. The $120 per share price tag Abrahams floated would value the Summit, New Jersey-based company at more than $80 billion. The drugmaker was worth more than $114 billion back in October before an expected blockbuster Crohn's disease drug failed a final-stage study.
Jared Holz, from Jefferies' health-care trading desk, noted a leveraged buyout would be surprising in the biotech sector.
"We do not see that typically, given uncertainties around business models, clinical outcomes, competition, pricing and limited longer term visibility relative to other industry groups," he said in an email. "No doubt this is a very cheap stock on earnings and that is intriguing in its own right but would think very low odds here."