Centrica Hits Millions of U.K. Energy Users With Price Hike
(Bloomberg) -- Centrica Plc raised its price for power and gas for a second time this year, citing soaring costs of buying energy on the wholesale market.
The utility's British Gas unit, the nation's biggest supplier to homes, will increase its standard variable tariff in October, hiking the average bill for the 3.5 million customers on the plan by 3.8 percent to 1,205 pounds ($1,554), the company said on Wednesday.
"We understand that any price increase adds extra pressure on customers' household bills," said Mark Hodges, chief executive officer at Centrica's consumer unit. "However, this reflects the sharp rise in wholesale energy costs."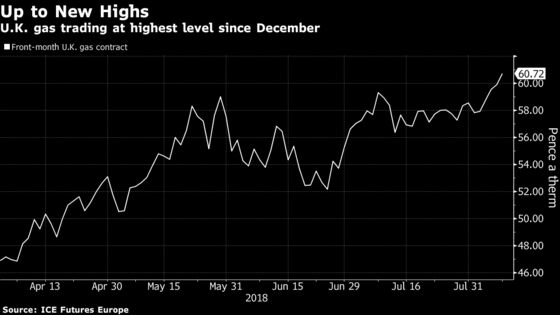 After its most recent increase in early April, the cost of buying wholesale energy has risen by about 20 percent, according to the supplier. Centrica in March scrapped the tariff for new customers as Prime Minister Theresa May has decided to cap SVTs and put an end to what she calls "rip-off" charges to customers.
Natural gas for front-month delivery on the National Balancing Point has gained 30 percent since the start of April, ICE Futures Europe data show.
Centrica rose for a fourth day, gaining as much as 1.6 percent to 150.25 pence and traded at 149.55 pence at 1:17 p.m. in London. The stock is up 9 percent this year.
"We encourage British Gas to be as transparent with its own customers in explaining why they have chosen to increase customer bills rather than absorbing any extra costs themselves," regulator Ofgem said in a statement. "Those British Gas customers who are not satisfied should consider switching to a better deal to make savings of hundreds of pounds."