Tesla Is Too Risky for These Traders
(Bloomberg) -- Think risk-arbitrage desks are drooling over the spread between Tesla Inc.'s market price and the value Chief Executive Officer Elon Musk touted for taking it private? Think again.
Traders are nearly unanimous: there's been too much pain of late to dive into something this exotic. After the NXP Semiconductors NV and Tribune Media Co. deals cratered, now is not the time to be placing bets on a deal where the financing is unclear and the orchestrator is Elon Musk.
"It would be quite likely that those who were burned on the NXPI deal break would be quite reluctant to jump in too early with Tesla - especially given how early stage it must be and the unorthodox way in which it came to light," said Ben Kelly, Louis Capital risk-arbitrage analyst. "I would say it's in very early stages, the price mentioned is not exciting, and that the process appears very unlikely to develop further anytime soon. "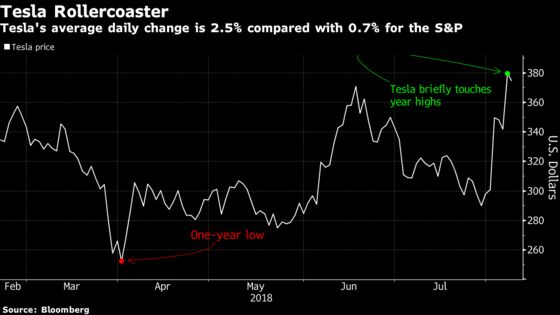 Musk, who owns about 20 percent of Tesla, would need to finance around $58 billion as part of a deal, according to Ivan Feinseth, Chief Investment Officer of Tigress Financial. That would mean an interest of $7.1 billion every year at rates of about 12.5 percent, he said on Bloomberg Television.
Financing isn't the only concern among risk arbitrage strategists. Wounds may still be fresh after NXP Semiconductors' $44 billion takeover by Qualcomm fell through two weeks ago. The merger of Hydro One Ltd. and Avista Corp. is also on the verge of falling apart. The worry also extends to whether Musk can get support from investors and where he will find the money to pay for funding costs should the deal be structured with debt.
Tesla shares fell 1.3 percent on Wednesday to $374.50, or 11 percent below the purported going-private price of $420 a share. While sell-side analysts speculate whether the decision to go private is a good idea, risk arbitrage strategists like Roy Behren, portfolio manager of the Merger Fund at Westchester Capital Management, says there isn't a lot for traders to do on Tesla at the moment given the absence of details.
"There is technically no arbitrage opportunity yet, because there is no deal, but there are investors who make 'pre-arb' investments," Behren said. "There is clearly more to this than just speculation because there is news flow from Musk on it, but the details are too skimpy, particularly on financing for us to forecast a high probability of a successful deal at this point."
In a series of tweets that sent the stock soaring, Musk said he's considering taking Tesla private at $420 a share and that investor support "is confirmed." He also tweeted, "funding secured." Bankers close to Tesla are said to have no knowledge of a potential takeout, Financial Times reporter Arash Massoudi said in an interview with CNBC. Tesla's board members later confirmed discussions on going private had occurred.
"Given the unusual form of disclosure regarding only discussions about a transaction that may never happen, traditional arbitrageurs typically would stay away from this situation until a definitive deal is disclosed," said Brett Buckley, event driven strategist at WallachBeth Capital LLC. "Perhaps some may seek option strategies that present clearly defined risk at attractive risk/rewards."