As Tesla Considers Going Private, Wall Street Wonders How
(Bloomberg) -- Elon Musk might have a clear plan for taking Tesla Inc. private. Analysts aren't convinced.
Reactions to the chief executive officer's tweet Tuesday that he was considering going private have widely varied on Wall Street. While some analysts say the $420 per share value cited by Musk is too low to entice investors, others say the company fundamentals don't support a valuation that high. The company's staggering debt load and already high capitalization may make it tough for the company to go private, the analysts also said.
Tesla shares fell as much as 3.3 percent on Wednesday before turning higher, briefly dipping into Tuesday's 11 percent rally after Musk's tweets lit a fire under the stock, already higher on reports that Saudi Arabia's sovereign wealth fund built a roughly $2 billion stake in the electric-car maker. A blog post from the company and a statement from the board confirmed the discussions but offered little further details.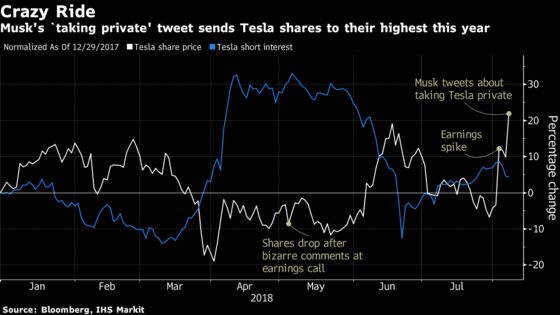 Here is a round up of the analyst commentaries after Tuesday's news.
Morgan Stanley, Adam Jonas
(Equal-weight, price target $291)
"The scale and scope of launching an auto company while providing a focused internal narrative to employees and stakeholders on the goals of the enterprise may be better aligned outside of the eye of the public market with a longer-term horizon."
Jonas says taking the company private would assume one of two factors: "that the company is on the verge of generating self-sustaining cash flows or that the company can tap into a range of strategic sources of capital not previously at its disposal."
"If Tesla's CEO really wanted to go private... why announce it to the world in this way... Investors might reasonably ask why Tesla management would want the stock price to reflect all the premium of an LBO up-front. It is hard to understand the potential reason for such a negotiating strategy."
Bernstein, Toni Sacconaghi
(Market-perform, price target $265)
"We see upside risk in the near term to perhaps $400, assuming more credible details of a buyout or an offer at $420 emerge..., but downside risk to ~$340 or below, if no firmer details emerge, as investors would likely increasingly debate Musk's credibility and seemingly unhealthy focus on the shares' price and volatility."
"We wonder how fully fleshed out Elon's tweets yesterday were. The nature of the delivery was unconventional at best, and seemingly whimsical at worst. At risk, of course, is that anything short of a formal take-private offer could trigger lawsuits from burned short-sellers, or at worst, public pressure to remove Musk as CEO."
Jefferies, Philippe Houchois
(Hold, price target to $360 from $250)
"Distraction or not, the move feels right even if Musk is downplaying how supportive public markets have been."
"With Tesla unable to take on more debt, we wonder who may fund the potential deal and end up as a new large shareholder."
Evercore ISI, George Galliers
(In-line, price target $301)
"No details have been provided with regards to what 'funding secured' means, who is providing that funding and what any potential funding structure might look like. Our view is that 'funding secured' should be interpreted as a strong verbal commitment, with funds available and parties willing to execute quickly. However, it could be less than this."
"While several press reports suggest an 'LBO', given Tesla's Ebitda and cash generation today, we don't see material leverage as likely. Instead, we see a possible scenario where 50 percent to 60 percent of existing shareholders continue, with their holdings rolled into a new private structure."
(Sector perform, price target $315)
"While we are not assessing probability today, we believe there is substance to the news and note that prior 'controversial' shareholder votes (like Solar City) have always voted with Elon."
"Sovereign funds (broadly), cash rich tech companies, Chinese sources and large VCs could all be potential candidates to provide funding."
(Outperform, price target $411)
"We do not think Tesla shareholders view the $420/share mark as an adequate premium for a go-private transaction, and therefore we think investors could look for a higher price."
"Shares could trade above $420 as investors demand a larger premium, which could coincide with some short covering."
New Street Research, Pierre Ferragu
(Buy, price target $530)
"The most likely outcome is that the attempt to take Tesla private fails, but leaves the company in a strong position to raise equity."
"We have good reasons to believe very large pots of money would want to participate in such an operation: The interest of SoftBank and its VisionFund for mobility and transportation is demonstrable in the fund's appetite for ride-sharing, self-driving vehicles, automation, and A.I."
"Owning Tesla's stock today requires a good deal of faith in the future of the company. On that basis, it is fair to assume that $420 may not attract that many investors, and many more will not be able or willing to follow Elon Musk into a private placement or a special vehicle."
Berenberg, Alexander Haissl
(Buy, price target $500)
"The funding of the transaction is unclear, but is potentially less of an obstacle than obtaining shareholders' approval, in our view. We consider the $420/share proposal as low and believe the fair value per share is higher at $500."
Haissl says a private Tesla adds risks and uncertainties for other automakers. "The company will be much better placed to execute its expansion plans, such as in China and Europe, with potentially accelerated time frames. That means Tesla competitors may have even less time to produce viable alternatives, or risk losing significant market share."
(Underperform, price target $200)
"We don't believe the current fundamentals of Tesla support a valuation anywhere close to $420 per share."
"The capital structure is the most uncertain element about this development revealed via Twitter, as an LBO model would not work if existing investors were to remain as Mr. Musk claims they will."
"If funding is secured as part of the deal that includes about $10 billion of liquidity without diluting equity capital, we would revisit our investment thesis for the company's long term growth prospects."