Ahold Delhaize Aims to Revamp Lagging U.S. Online Business
(Bloomberg) -- Royal Ahold Delhaize NV's new chief executive officer pledged to revamp the grocer's lagging U.S. online business and rekindle growth at formats such as Food Lion and Giant that face an e-commerce push from Walmart Inc.
Frans Muller, who succeeded Dick Boer at the helm of the Dutch-Belgian retail giant five weeks ago, faces a challenge in the U.S., where the company gets about two-thirds of its revenue. Discounters such as Lidl and online expansion from traditional peers are pressuring the retailer's margins there. In May, the company announced plans to set up a center called Peapod Digital Labs in Chicago to redevelop U.S. online strategy.
"We are not satisfied with the current 8 percent online growth in the U.S., which is why we've taken these initiatives," Muller said in a phone interview. He said the project aims to boost online growth in the market to more than 10 percent by next year.
The shares fell as much as 3.3 percent Wednesday after the company said online sales in the U.S. trailed its performance in the Netherlands, which had 23 percent growth. Ahold Delhaize forecast overall U.S. revenue will improve in the third quarter after eking out a gain in the three months through June.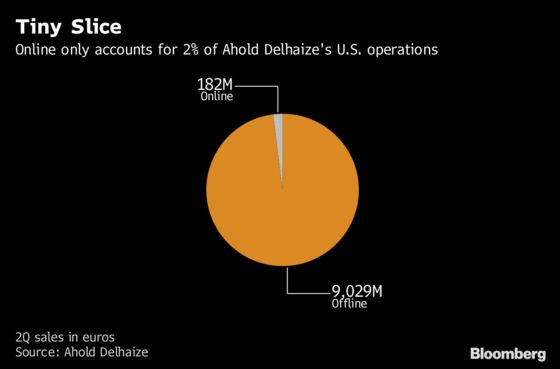 While the U.S. lags, Ahold Delhaize is innovating in Europe. Its Dutch Albert Heijn format is doing a test to see if consumers will be willing to use smart door locks that give deliverers access to their homes and refrigerators.
Berenberg analysts on Tuesday called for the company to invest 1.6 billion euros ($1.9 billion) in the U.S., saying that its pricing, store standards and customer satisfaction are "significantly" behind peers.
Muller also said Ahold Delhaize would take an "active role" if consolidation opportunities arise in existing markets.
The grocer is revamping its ailing Stop & Shop format and said it will convert about 20 stores to the new format this year. The chain's volumes declined in the second quarter.
As of Tuesday, the shares had gained 14 percent this year, boosting the company's market value to about $30 billion, near that of U.K. retail powerhouse Tesco Plc and ahead of the $23.9 billion for the U.S.'s largest supermarket chain, Kroger Co.