UniCredit Eyes Growth Again as Mustier Clean-Up Nears Completion
(Bloomberg) -- Now that the clean-up of UniCredit SpA is almost complete, Chief Executive Officer Jean Pierre Mustier is eyeing expansion again -- including mergers.
Italy's biggest bank on Tuesday presented a second-quarter profit that beat analysts' estimates as job cuts and branch closures proceed ahead of schedule. With bad loans coming down as well, the next step for the lender once the targets for 2019 have been reached will be to chart a path to growth again, Mustier told reporters at a press conference.
"We want to be one of the pan-European winners," Mustier said. "If it has to be done on an organic basis, we are working on that. If it has to be done on non-organic basis, we could consider that."
The 57-year-old Frenchman, who took over two years ago and has pledged to build a leading pan-European lender, is among the few bank executives to be able to prioritize growth again. He has sold of billions of euros in bad loans, strengthened capital and cut costs. While Mustier said that the likelihood of a cross-border merger remains low, shares of the lender have gained almost 60 percent during his tenure, strengthening his hand.
UniCredit rose 3.2 percent at 2 p.m. in Milan trading, giving the bank a market value of 33 billion euros ($38.3 billion).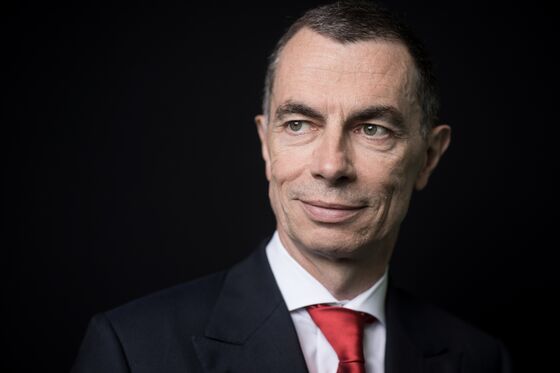 Lower costs and reduced provisions for bad loans boosted net income to 1.02 billion euros, beating the 930.6 million-euro average of five analyst estimates compiled by Bloomberg.
Mustier has set a target of 4.7 billion euros of annual net income in 2019.
"UniCredit reported a solid beat to consensus, the market will like the net interest income and cost beat as well as the fast improving asset quality," Andrea Filtri, an analyst at Mediobanca SpA, wrote in a report.
The lender is speeding up the reduction of its soured debt as Mustier has made cleaning up the balance sheet a pillar of his tenure. UniCredit expects its non-performing exposures to be down by the end of the year, with a target of 2 billion euros of NPE disposals.
"UniCredit delivered strong results in a challenging market during the second quarter," Mustier said during a conference call with reporters. "By the end of this year, we expect to be close to finalizing the announced Transform 2019 branch closures in Western Europe," as well as the planned staff reductions.
Main highlights from earnings:


2Q revenue EU4.95b, down 4.3% y/y; est. EU4.92b

2Q net interest income EU2.68b, down 2.6%; est. EU2.64 b

2Q operating costs EU2.66b, down 7%
CET1 ratio fell to 12.51% vs 13.06% end March

Bank confirms CET1 ratio of 12.3%-12.6% end 2018
While operating costs and loan-loss provisions fell, analysts point out that the results also show that revenue pressure at UniCredit is easing.
"The profit beat was supported by strong core revenues," Jefferies analysts Benjie Creelan-Sandford and Marco Nicolai wrote in a note, highlighting higher volumes and lower funding costs.
UniCredit is among the biggest banks in central and eastern Europe, serving 25 million clients in 14 countries including Russia and Turkey. The central and eastern Europe division was the largest contributor to second-quarter profit, with net income up 2.3 percent to 472 million euros.
Concerns about the direction of Italy's populist government drove up Italian bond yields in the quarter, hitting the capital buffers of banks holding the debt. UniCredit's common equity tier 1 ratio, a key measure of financial strength. fell to 12.51 percent from 13.06 percent at the end of March.
UniCredit is confident that it will reach an agreement with U.S. authorities this year over an ongoing investigation involving possible violations of sanctions against Iran, Mustier said on a conference call.
Other Highlights:

UniCredit held EU44.6b Italian sovereign debt at end of June
CET1 ratio: -30bps due to BTP spread widening
NPE ratio improved to 8.7%
Non Core gross NPEs at EU22.2b, new target EU19b for year end