Trump Tariff Threats Have Done Little to Shrink German Surplus
(Bloomberg) -- Germany's trade surplus with the U.S. is showing little sign of buckling under President Donald Trump's accusations of unfair practices.
The nation's exports to the U.S. exceeded imports by 24.4 billion euros ($28.3 billion) in the first half of the year, German data showed on Tuesday. That's barely changed from the 24.5 billion euros in the same period of 2017.
The booming U.S. economy is continuing to suck in German goods from cars to chemicals, even amid repeated criticism from the Trump administration and threats of tariffs on Europe. Still, the latest figures show how tensions could flare up again, despite Trump's agreement with European Commission President Jean-Claude Juncker to refrain from any action while the two sides negotiate.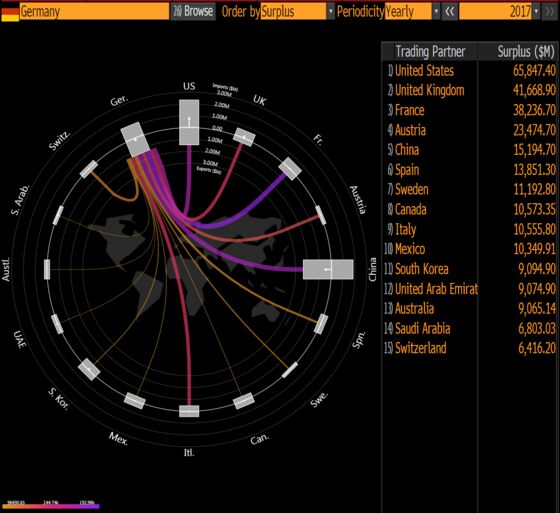 "At the moment, we don't see much of a decline in the trading relationship with the U.S.," said Jan-Philipp Schulz, treasury manager at Sparkasse Suedholstein. While some confidence indicators have weakened amid a worsening of ties, "this overflow into the real economy hasn't happened."
Trump, who has German ancestry, has lambasted the country for its underspending on defense, links to Russia and exports. He has complained on Twitter about the "MASSIVE trade deficit" with Germany and at a meeting with European Union leaders called the country "very bad" for selling "millions of cars" in America. His top trade adviser, Peter Navarro, has accused it of benefiting from a "grossly undervalued" euro.
Yet while German exporters do benefit from a weaker currency, and the euro has softened against the dollar recent years, the country doesn't set the exchange rate. That's largely a consequence of the European Central Bank, which is running looser monetary policy than the Federal Reserve because the bloc's recovery from global financial crisis has been slower.
There's little sign that dynamic will change any time soon, with the Fed pledging to keep raising rates at a gradual pace and the ECB saying it expects to keep borrowing costs at current record lows at least through the summer of 2019.
Read More
EU Hopes to Use Prior Trade Negotiations in New Talks with U.S.
Auto Tariffs Threat Raises Stakes in U.S.-Japan Trade Talks
Exporters are still nervous about the outlook, even after Trump's meeting with Juncker last month. The U.S. Commerce Department is continuing an investigation into car imports under an act that permits trade restrictions if needed to safeguard national security.
That's a particular concern for Germany. Vehicles were its largest export category by value in 2017, accounting for almost a fifth of the total, and levies on vehicles including Mercedes-Benz, BMW AG and Porsche models would represent a significant blow to the economy. Chancellor Angela Merkel last month described potential auto tariffs as "a danger for the prosperity for many in the world."
The U.S. is also Germany's largest non-European Union export destination, taking 9 percent of the nation's shipments last year.
The breadth of the economy's manufacturing base shows how difficult it would be to curb exports through product-specific tariffs though. The country is also a major seller overseas of machinery, chemicals, electronics and electrical equipment.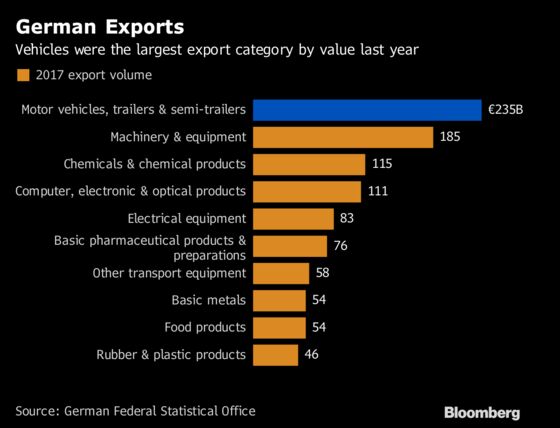 The nation's global trade surplus was 122 billion euros in the first half of 2018, putting it on track to match last year's 244 billion euros, and within reach of 2016's record 249 billion euros.
One area where the nation is largely dependent on imports is crude oil and natural gas. Trump has alleged the country is "captive to Russia" for its energy supplies and tried to pitch U.S. liquefied natural gas instead.
Juncker told the president at their meeting that Europe will expand imports of the fuel from the U.S. Even that may not add up to much though. Germany has so far been lukewarm to the idea of buying U.S. LNG, and analysts have noted that supplies from Russia's vast Siberian fields are far cheaper.