Trump's Trade Wars Mean Small Change for Carmakers for Now
(Bloomberg) -- President Donald Trump, like the proverbial bull in a China shop, has sent shares of BMW AG and Daimler AG into a tailspin this year. Yet for all the uproar on car tariffs, the cost to German automakers is negligible for now.
BMW, exporting its popular sport utility vehicles from the U.S. to China, might see a drag on profit of just 1.3 percent while rival Daimler, shipping SUVs on the same route, faces almost zero exposure, analysts at Exane BNP Paribas said in a report this week. Volkswagen AG, with no car trade between the warring superpowers, will be better off after recent moves by China to lower tariffs.
"The only actual tariff change -- not just rhetoric -- is in China," Exane analysts including Stuart Pearson and Dominic O'Brien wrote. "The net impact is actually negligible for most of the sector."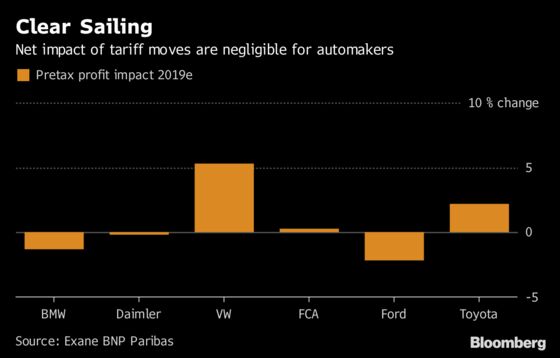 Carmakers, with production and distribution networks spanning the globe, are in the midst of a tariff whiplash. Just as China cut import restrictions to 15 percent from 25 percent last month, Trump's tit-for-tat trade squabble with the world's second-biggest economy resulted in a tariff hike for U.S.-made cars into China to 40 percent.
At the same time, Trump's criticism of European Union levies on car imports has weighed on shares. The EU has warned Trump's threat to slap tariffs as high as 25 percent on imports would add 10,000 euros ($11,601) to the sticker price of each car shipped from the bloc.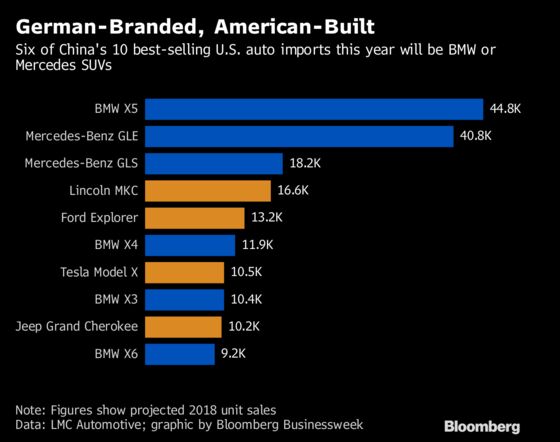 The automotive sector's position in the crosshairs of intensifying trade tension comes after decades of global expansion. Carmakers established plants in countries with high restrictions like China, and took advantage of free-trade zones like Nafta.
For now, Trump's trade theatrics are taking their toll on valuations. Since the start of the year, the Stoxx Europe 660 Automobiles & Parts Index has slumped 8.6 percent, with Daimler falling 17 percent. BMW and the Mercedes-Benz maker have warned their profits will suffer from intensifying trade headwinds. Shares in Volkswagen, which makes the Audi and Porsche nameplates, are 11 percent lower.